Joe Biden wasted no time canceling the highly controversial Keystone XL oil pipeline once he became president. On inauguration day, he revoked one of the project's key federal permits, leading Keystone's developer to cancel the project earlier this month. The new administration's opposition to the pipeline and its subsequent cancellation made headlines around the world.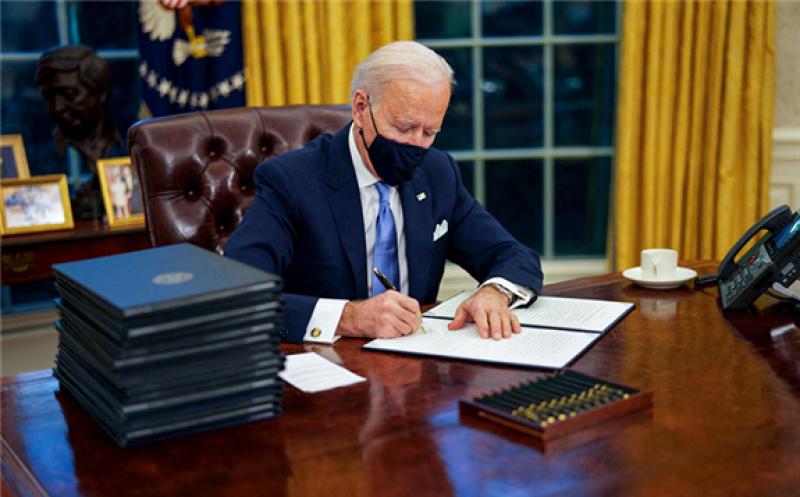 But deep in Minnesota's northwoods lies another massive pipeline project that's been called a "doppelganger" of Keystone XL: Enbridge Energy's Line 3 oil pipeline. Like Keystone XL, Line 3 would carry toxic, carbon-intensive tar sands crude from Canada into the U.S., crossing more than 300 bodies of water—including the ecologically rich Mississippi River headwaters and thousands of acres of wild rice waters that are a critical lifeway to several Native tribes.
The entities behind the pair of pipelines are multi-billion-dollar Canadian companies headquartered in Calgary, Alberta. Both lines have faced years of resistance and protests by Indigineous and environmental activists. But despite reports of behind-the-scenes pressure, Biden hasn't taken a public stance on Line 3 the way he did with XL, much to the chagrin of environmental advocates.
"The silence from the Biden administration on Line 3 is conspicuous and disappointing and really shocking," says Brett Benson, spokesperson for MN350, a Minnesota climate advocacy group. "When you consider every rational reason the administration had for canceling Keystone XL on the first day in office, that applies to Line 3 as well."
As president, Biden said he had canceled the pipeline because the oil it would carry would further the climate crisis, and the project didn't align with his administration's goals of developing a clean-energy economy for the United States. "The world must be put on a sustainable climate pathway to protect Americans and the domestic economy from harmful climate impacts," his order read.
Protests on the Line 3 construction sites have been constant since the U.S. Army Corps of Engineers approved the project's final federal permit in the waning days of the Trump Administration. Construction began shortly after, in early December last year, and was immediately met with resistance. Activists have been fighting the project for years, especially since Minnesota state regulators first approved Line 3 in 2018.