Iran will hold its presidential election on Friday, and at least one analyst considers it the year's most important political event for the oil market.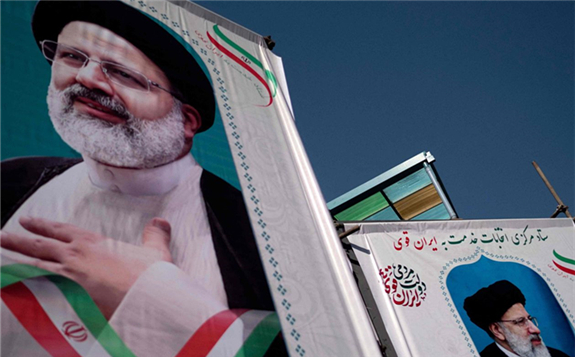 "We look at this election as the most important political milestone of 2021 for the global oil market," said Pavel Molchanov, energy analyst at Raymond James, noting that the event has failed to garner much attention in the U.S. or international media, despite its importance.
Iran's current President Hassan Rouhani has been in office since 2013, but by law cannot seek a third term.
A low turnout for the elections is expected as Iran deals with the continuing pandemic, but Iranian Chief Justice Ebrahim Raisi, a protégé of Supreme Leader Ali Khamenei, appears to be the front-runner among the seven candidates running for president, according to U.S. think tank the Council on Foreign Relations. Raisi is known as a hard-liner candidate who ran against Rouhani in 2017.
"The all-but-certain victory of a hard-liner is likely to slow down the nuclear talks — and, as an off-chance scenario, might even halt them," said Molchanov, in a research note dated Monday. "This would mean that U.S. secondary sanctions last longer, postponing the return of Iranian crude exports" of 1.5 million to 2 million barrels per day onto the global market.
Beyond that, the new leadership in Tehran is "likely to have less of a focus on economic modernization as compared to the past eight years under the moderate presidency" of Rouhani, which may eventually lead to less growth in Iran's oil supply, he said.
A slowdown or halt in the talks, or less focus on a modernization of Iran's oil industry, would both "point to higher, rather than lower oil prices," said Molchanov.
On Monday, global benchmark Brent crude saw its August contract BRNQ21, -0.05% BRN00, -0.05% settle at $72.86 a barrel, the highest front-month contract finish since April 2019. July West Texas Intermediate crude CLN21, -0.06% CL.1, -0.06% settled Friday at $70.91, the highest since October 2018.
Unless a nuclear deal can be signed during Rouhani's final months in office, before a new president is inaugurated in August, the "nuclear talks may need to hit a pause button," said Molchanov. That's significant because Iran is "capable of producing somewhere between 1.5 million and 2 million barrels per day…beyond its current run-rate of slightly more than 2 million" barrels per day, he said.
When asked by MarketWatch about the outlook for prices, Molchanov pointed out that the current futures curve is highly backwardated, with futures contracts expiring in later months trading lower than current prices.