The world's largest convenience retailer is substantially adding to the charging stations it offers for electric vehicles (EVs), as well stores powered by wind and other renewable sources.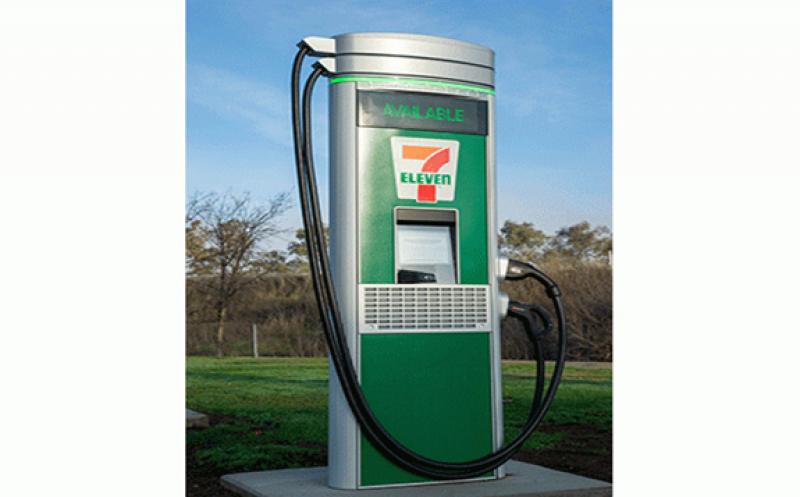 7-Eleven Inc. is undertaking a massive direct current fast charging (DCFC) port installation project, with a goal of building at least 500 of the stations at 250 select U.S. and Canada stores by the end of 2022.
Owned and operated by 7-Eleven, the new DCFC ports add to the company's existing 22 charging stations located at 14 stores in four states. Once this expansion is complete, 7-Eleven will have one of the largest fast-charging systems of any retailer in the U.S. Other U.S.-based retailers rolling out EV charging stations at their stores include Macy's, Walmart, and Meijer.
Additionally, 7-Eleven recently pledged to meet a 50% reduction of carbon dioxide emissions by 2030. The company previously reached a 20% carbon dioxide reduction goal in 2019, eight years ahead of schedule. The company is also purchasing 100% wind energy for 800-plus Texas stores and 300-plus Illinois stores. Additional renewable energy purchases include 150 stores using hydropower in Virginia, as well as 300 Florida stores powered by solar energy.
"7-Eleven has always been a leader in new ideas and technology to better serve the needs of our customers," said 7-Eleven president and CEO Joe DePinto. "Adding 500 charging ports at 250 7-Eleven stores will make EV charging more convenient and help accelerate broader adoption of EVs and alternative fuels. We are committed to the communities we serve and to working toward a more sustainable future."
Based in Irving, Texas, 7–Eleven operates, franchises and/or licenses more than 77,000 stores in 16 countries and regions, including 16,000 in North America.