The final canister containing used fuel has been removed from the storage pool of the Oyster Creek nuclear power plant in New Jersey, USA, and placed in an on-site dry storage facility. Holtec International said the plant's defuelling - completed in just 32 months following the plant's permanent shutdown - has set a new world record.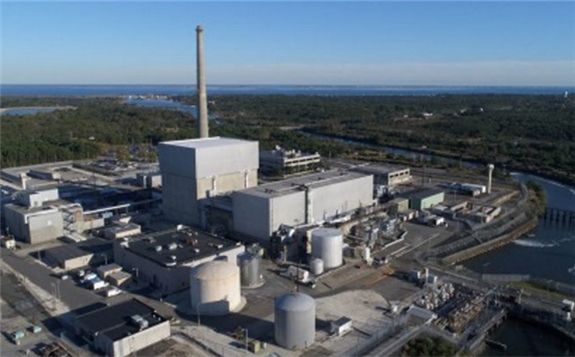 The last multi-purpose canister containing Oyster Creek's irradiated fuel was placed in dry storage on 21 May, completing the operation to remove all fissile material from the plant's reactor building. Holtec ultimately intends to ship the site's used fuel to the HI-STORE consolidated interim storage facility it is licensing in New Mexico, but in the meantime the used fuel will remain stored on the Oyster Creek site.
Workers from Holtec's Nuclear Power Division loaded a total of 33 high-capacity HI-STORM 100 FW systems, with each system having the loading capacity of 89 used boiling water reactor (BWR) fuel assemblies. The Holtec team loaded 33 casks within 21 weeks.
"This rapid defuelling of the nuclear plant's fuel pool is in accord with Holtec's primary goal to inoculate its decommissioning sites from threats of any kind, including malevolent human acts," the company said.
"We are implementing a state-of-the-art aging management programme to protect the old horizontal modules from ravages of salt air while we work in parallel with the Department of Energy to move all of the plant's legacy high-level waste to the ultimate safety of consolidated storage at our HI-STORE CIS site in New Mexico, which is currently under Nuclear Regulatory Commission review," said P K Chaudhary, senior vice-president of SVP of Holtec's Nuclear Power Division operations.
Although licensed to operate until 2029, Exelon had decided in 2010 to retire Oyster Creek early after revisions to New Jersey's water use rules would have required it to build new cooling towers at an estimated cost of more than USD800 million. The 619 MWe single-unit BWR plant was the oldest operating nuclear power plant in the USA when it was shut down on 17 September 2018, after 49 years of electricity generation.
Holtec formally took over ownership of Oyster Creek after its subsidiaries completed the transfer and acquisition from Exelon Generation on 1 July 2019. This followed NRC approval the previous month of the transfer of the plant's operating licence to Holtec subsidiaries Oyster Creek Environmental Protection, LLC (OCEP), as owner, and Holtec Decommissioning International, LLC (HDI), as operator, for decommissioning. OCEP and HDI are responsible for decommissioning the plant and managing its decommissioning trust fund.
Holtec issued a general contract to Comprehensive Decommissioning International - a joint venture company of Holtec and SNC-Lavalin - to perform decontamination and decommissioning of the Oyster Creek plant.