ECSL, a joint venture of Houston-based EC Source and Chicago-headquartered Sargent & Lundy, is rebuilding 28 miles of wooden structures on the 69-kV Yellowjacket-Junction transmission line near Menard, Texas, for AEP with 485 steel structures to help improve reliability. The rebuilt 69-kV line will accommodate a 138-kV energized line if customers require more capacity. The Yellowjacket project is the third in a series of three transmission lines ECSL has undertaken in Texas for AEP.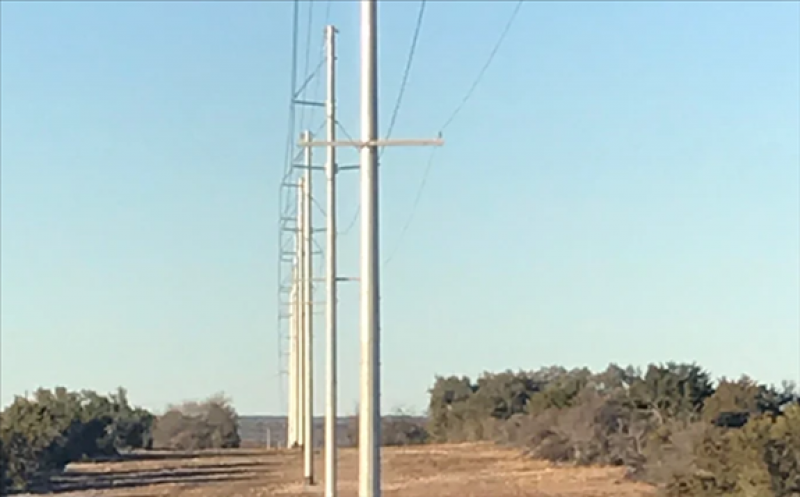 The 69-kV Yellowjacket-Junction project stretches north from Junction, Texas, to the Yellowjacket substation near Menard. The project includes the replacement of six miles of a distribution circuit, which is supported by a subset of the newly constructed transmission structures. The distribution circuit remained in service during construction from September 20, 2020, through December 15, 2020, with no power interruptions to the connected customers. ECSL completed the energized line work using glove and sleeve techniques for handling and working near live electrical lines.
"The project involves a significant amount of rock drilling, which also means using pressure diggers," said Eddie Moore, director of Operations, T&D, for EC Source. "We have our environmental crews on hand because they're positioning and relocating mats and reconditioning the rights of way as we work the job."
To keep the project on schedule while traversing challenging terrain, Jerry Kirby, the on-site manager for ECSL is deploying a combination of pilot drilling crews who break ground followed by excavation crews. The tag-team approach has allowed ECSL to stay on its timetable, even when crews have encountered challenges. The goal of the project is to reduce the likelihood, frequency and duration of outages in the area along with supporting potential economic development.
"EC Source brings crews with the right skills and a collaborative mindset for managing a construction project with Sargent & Lundy's engineers who designed the line," adds ECSL project manager Cade Womack. "Those qualities help keep a project like this on schedule and on budget."
ECSL expects to complete the rebuild of the Yellowjacket-Junction line later this year. EC Source has also earned multiple Zero Harm Safety Club awards from AEP – two at the 69kV level and one at the 138kV level – for working tens of thousands of injury-free hours on transmission projects. Since beginning the Yellowjacket project in 2020, EC Source's crews have kept themselves free of injury.