Chinese oil giant Sinopec Group has completed work on the country's first "carbon-neutral" gas station, marking an important step in its drive to reduce carbon emissions.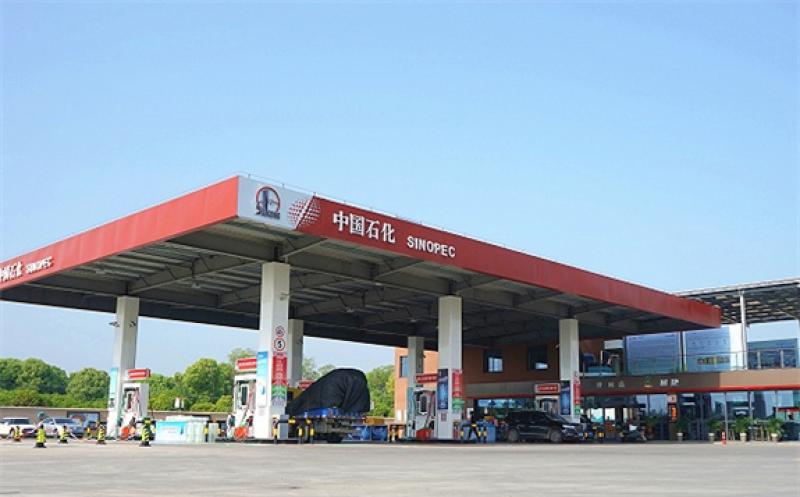 The company said that it has commissioned a distributed photovoltaic power project at its Jiaze gas station in Changzhou, Jiangsu province. The solar-powered gas station, which has rooftop solar panels, will be self-sufficient and transmit unused power to the grid.
With an annual power output of around 127,000 kilowatts to 147,000 kW, the photovoltaic gas station can reduce 91.2 metric tons to 105.6 tons of carbon dioxide. Its annual power consumption is estimated at 99,000 kW, it said.
With an average life span of 25 years, the station can reduce 3,800 tons of carbon dioxide, 116 tons of sulfur dioxide and 56 tons of nitrogen oxide.
Solarizing Sinopec's service stations is fully aligned with the company's strategy of going green, as gas stations are increasingly becoming a meeting ground for fossil fuels and renewable energy.
Experts said that adding solar panels and using free energy from the sun translates to big savings, especially when business owners can take advantage of reduced equipment and installation costs. Jiang Yali, a solar industry analyst at Bloomberg NEF, said joint efforts from the government as well as corporates are required to achieve the carbon neutrality goals, and the current attempts are also in line with the company's green transition.
According to Sinopec, the company has been actively allocating photovoltaic gas stations nationwide. It is currently running 160 solar-powered gas stations in Hainan, Guangdong, Yunnan and the Guangxi Zhuang autonomous region.
It plans to have 7,000 distributed photovoltaic gas stations across the country during the 14th Five-Year-Plan period (2021-25), to make sure that the company achieves carbon neutrality targets by 2050. This means that more than 23 percent of its gas stations in the country will be equipped with high-efficiency Sun-Power solar panels.
Sinopec is currently going through energy transition and industry upgrade, and plans to come up with 1,000 hydrogen stations, 5,000 charging stations or battery swapping stations and 7,000 distributed photovoltaic power stations by 2025, to further enhance its major position in the transportation and energy market, said Zhang Yuzhuo, chairman of Sinopec.