Profits at China's two major power grid operators have witnessed a sharp rebound during the first quarter, thanks to the domestic economic recovery, and the trend is expected to continue throughout this year, said analysts.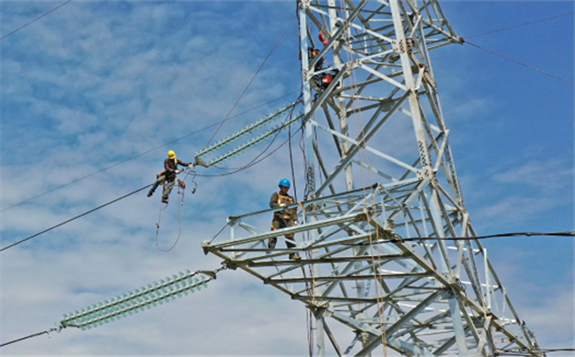 The country's two major power grids-State Grid Corp of China, the world's largest utility, and China Southern Power Grid, whose business covers China's Guangdong province, the Guangxi Zhuang autonomous region, Yunnan province, Guizhou province and Hainan province-each saw their total net profit exceed 15 billion yuan ($2.33 billion) during the first three months, up 153.05 percent year-on-year.
While State Grid's first-quarter revenue rose 19.04 percent year-on-year to 677.75 billion yuan and net profit surged 14 times to 12.07 billion yuan, China Southern Power Grid's top line was 28.52 percent higher at 139.12 billion yuan and net profit jumped 2.6 times to 2.98 billion yuan.
This is against the backdrop of the two major power grids experiencing sharp net profit declines a year earlier, with State Grid seeing a net loss of 926 million yuan while Southern Power Grid's net profit falling 81.3 percent year-on-year to 827 million yuan.
Analysts believe the country's electricity consumption during the second quarter will continue recent momentum as both grid companies have lifted their power load and consumption in the current quarter.
Joseph Jacobelli, an energy analyst and senior adviser for Asia at Cenfura Ltd, a smart energy services company, said State Grid could easily achieve a 10 percent rebound in net profit to 65 billion yuan for this year.
The rebound in profits for China's major grid operators in the first quarter was within expectations considering the low 2020 base, Jacobelli said.
The power market's massive transformation-including market structure reforms, an accelerated shift from brown to green power, more grid investment such as energy storage during the 14th Five-Year Plan period (2021-25)-is also posing continued challenges to SGCC's profitability, he added.
Wei Hanyang, a power market analyst at Bloomberg New Energy Finance, said the two State-owned grid plays are emerging from the COVID-19 pandemic's shadow, not just because of the rapidly recovering economy and power demand, but also thanks to the lifting of a 2020 policy that reduced all commercial and industrial power tariffs by 5 percent.
They altogether help shore up grid revenues from a very low base in last year's first quarter, Wei said.
China's power grid companies' post-2020 transmission and distribution tariffs are expected to remain below 2019 levels despite recovering from the 2020 trough, said Fitch Ratings.
The modest earnings pressure can be mitigated by China's strong recovery in power demand from 2020 and the continued improvement in line loss and operating efficiency, it said.
The China Electricity Council earlier estimated that the country's electricity consumption, a key barometer of economic activity, is likely to grow by 6 to 7 percent year-on-year in 2021, and power supply and demand will generally remain steady in China although some areas may face power supply pressure during peak hours.
The installed capacity of power generation in China is expected to reach 2.37 billion kilowatts by the end of 2021, up around 7.7 percent year-on-year, it said.
It also predicted that the share of installed capacity of power generated from non-fossil sources will continue to expand, with installed capacities of both wind and solar power to see increases of about 3 percentage points from levels at the end of 2020. China has vowed to increase the share of non-fossil fuels in primary energy consumption to around 25 percent by 2030, and bring its total installed capacity of wind and solar power to more than 1.2 billion kW.