The International Atomic Energy Agency (IAEA) has designated Ontario Tech University as a Collaborating Centre to support IAEA activities on advanced nuclear power technology, including small modular reactors (SMRs), as well as the non‑electric applications of nuclear energy. The institution is the first in Canada to receive such a designation.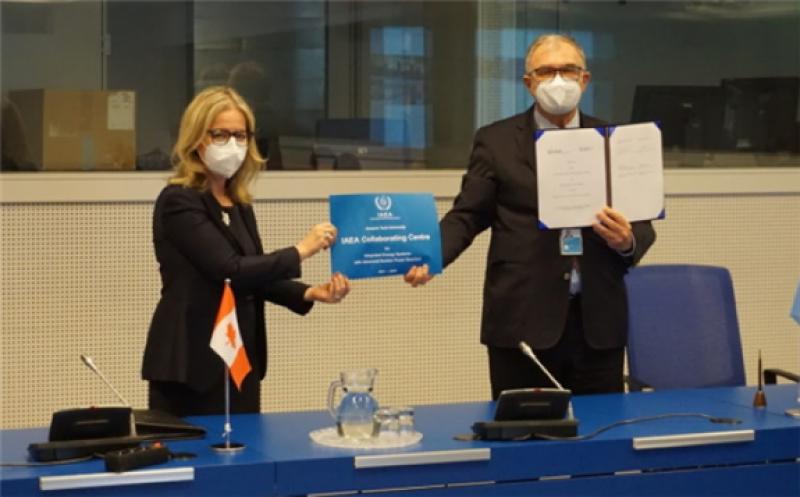 The agreement was signed on 22 April at the IAEA's headquarters in Vienna by Mikhail Chudakov, IAEA deputy director general and head of the Department of Nuclear Energy, in the presence of Heidi Hulan, Canada's ambassador to Austria and its permanent representative to United Nations organisations located in Vienna. She is currently also serving as the chair of the IAEA Board of Governors.
The IAEA said the focus of the agreement will be to support R&D on integrated, sustainable energy system designs and modelling focused on SMRs and microreactors, as well as renewable energy technologies for multi-purpose applications. This includes hydrogen production, desalination and district heating as part of the overall contribution to the climate change mitigation. The agreement includes the development of training and education resources and publications for effective capacity building on topics related to SMRs, nuclear-renewable integrated energy systems and nuclear cogeneration.
"These topics are very timely as we face the great challenge of producing enough energy to power global development, while ensuring we do no harm to our planet," said Chudakov. "Nuclear power, as a clean, reliable and sustainable source of energy can help us meet that challenge. And innovation, of course, is key to that success."
The IAEA Collaborating Centres Scheme provides the IAEA with a mechanism to designate eligible member state institutions as partners that assist in implementing its selected programmatic activities. The scheme - focused on research, development and training - was launched on three-year pilot basis in 2004, before being fully implemented in 2008. With the newly designated Ontario Tech University, there are now 49 active Collaborating Centres worldwide.
The IAEA Collaborating Centre Agreement is a legally binding document that contains inter alia the undertakings of the parties, duration of designation, objectives, activities, and expected results and outcomes stated in the work plan.
Ontario Tech's Faculty of Energy Systems and Nuclear Science runs the only accredited Nuclear Engineering undergraduate programme in Canada, and the third-biggest in North America. The university's Centre for Small Modular Reactors undertakes research and consultancy activities to support SMR development.
"We are leaders in several fields, from hydrogen to nuclear energy and nuclear science, small modular reactors, advanced data analytics and software development," said Ontario Tech President Steven Murphy. "This designation helps to validate that expertise and we hope to be a very strong partner as a Collaborating Centre."
Ontario Tech plans to support IAEA activities to attract more women to nuclear science and engineering, including by selecting an outstanding graduate student to apply for the IAEA Marie Sklodowska Curie Fellowship Programme.
"This agreement embodies the spirit of innovation and collaboration that we are going to need in the years ahead to build back better," Hulan said. "The work on advanced nuclear power reactors is extremely relevant, also to Canada, in light of its Roadmap for Small Modular Reactors. We believe that SMRs have the potential to help respond to climate change, produce reliable, carbon free electricity, create jobs, and help reach net zero emissions by 2050."
In November 2018, the Canadian government released its SMR Roadmap, a 10-month nationwide study of SMR technology. The report concluded that Generation IV SMR development is a response to market forces for "smaller, simpler and cheaper" nuclear energy, and the large global market for this technology will be "driven not just by climate change and clean energy policies, but also by the imperatives of energy security and access". In December last year, the Canadian government released a national SMR Action Plan, which responds to the 53 recommendations identified in the country's SMR Roadmap. The plan lays out the next steps for the development, demonstration and deployment of SMRs for multiple applications at home and abroad.