First concrete has been poured today for the basemat of unit 3 at the Changjiang nuclear power plant in China's Hainan province. The move came after the National Nuclear Safety Administration issued a construction licence to China Huaneng Group for the construction of units 3 and 4 at the site. The Hualong One units will be the first large pressurised water reactor project in which Huaneng will hold a controlling stake.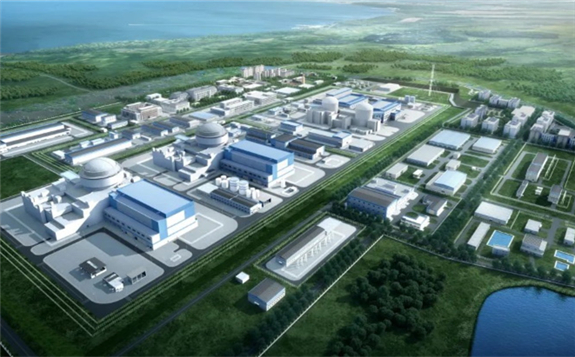 Two Hualong One units will be built as phase two - units 3 and 4 - of the Changjiang plant by state-owned China National Nuclear Corporation (CNNC) and China Huaneng Group. This follows the signing of an agreement between the two companies in June 2019, through which they will jointly invest in the development, construction, operation and management of two Hualong One reactors at Changjiang. Huaneng will hold a controlling 51% stake in the project through its subsidiary Huaneng Nuclear Power Development Company.
China's State Council approved the construction of the two units on 2 September last year. The issuance of the construction permit by the National Nuclear Safety Administration cleared the way for construction to begin on unit 3. The construction period is expected to be 60 months. Construction of unit 4 is scheduled to start in 10 months. Both units are due to enter commercial operations by the end of 2026.
CNNC and Huaneng are also cooperating in phase one of the Changjiang plant (which comprises two CNP-600 pressurised water reactors), the Shidaowan HTR-PM project (a demonstration high-temperature gas-cooled reactor in Shandong province) and the 600 MWe demonstration fast reactor at Xiapu, Fujian province. For phase 1 of the Changjiang plant, CNNC has a 49% stake and Huaneng 51%. In July last year, CNNC announced the launch of a project to construct an ACP100 small modular reactor at the Changjiang site.
China Huaneng Group was formed from the State Power Corporation in 2002 as one of five major generators, and it has about 138 GWe in operation, none of it as yet nuclear. It has formed links with both CNNC and China General Nuclear. It is an independent state-owned but incorporated business entity focused on power generation. China Huaneng is the fourth Chinese central enterprise to obtain qualification for nuclear power development.