Pipelaying on one of the twin lines that compose Russian state-controlled Gazprom's 55bn m³/yr Nord Stream 2 gas route might not be complete until winter, a regulatory document suggests.
Danish energy agency DEA's updated schedule shows a 25-week window for completing remaining pipelaying on the Danish section, ending in the week starting 13 September (see table).
But the timetable may have already slipped, based on outlined earlier steps. Start-up trials in Danish waters were scheduled to end this week, according to the DEA guidance. Pipelaying vessel Akademik Cherskiy was to join fellow Russian-flagged Fortuna, which restarted work on the other line in Danish waters earlier this year. But Akademik Cherskiy was still off Kaliningrad this afternoon, tracking data show.
Nord Stream 2's developer told Argus earlier this month that "everything depends on the [sea] trials", and that no start date for pipelaying was fixed. The company today declined to add further detail.
The developer's notice to mariners filed on 4 March suggests up to 65.8km needs to be laid in Danish waters on line A — the line on which work has stalled. This suggests a rate of 2.63 km/week, or 375 m/d, would be needed to complete it, if works were continuous. But work could be quicker, with the schedule allowing operational flexibility, including to deal with adverse weather.
Nord Stream 2 said on 5 March that 110km of pipelaying remained in Danish waters. This may suggest that about 56km of line B had yet to be laid, prior to the resumption of works by Fortuna. Pipelaying on line B in Danish waters is expected to be completed by the end of May, according to DEA's schedule, followed by the resumption of works in German waters.
Fortuna has travelled 18.3km since it began moving southwest along the pipeline's route. This would be equivalent to a rate of about 415 m/d — consistent with earlier estimates and the project developer's expectations.
The project operator had earlier said that 16.5km of one string and 13.9km of the other also required laying in Germany. Fortuna's expected laying rate suggests that it could finish German pipelaying operations in early July.
After pipelaying, the project requires above-water tie-ins of unconnected pipe sections, as well as design verification of the completed pipeline and the lines to be filled with operational gas. This suggests commissioning of full capacity is unlikely this year, based on similar experiences with Nord Stream's testing and filling regime in 2011.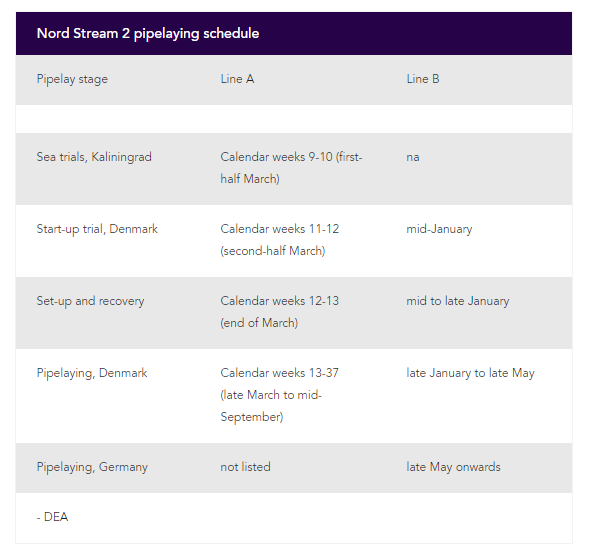 This article is reproduced at www.argusmedia.com