Rosatom announced today that first concrete has been poured for the third unit of the Akkuyu nuclear power plant under construction in the Mersin province of Turkey. The Russian and Turkish heads of state joined the ceremony held to mark the event by video link. The Akkuyu nuclear power plant project is based on an intergovernmental agreement the two countries signed in 2010.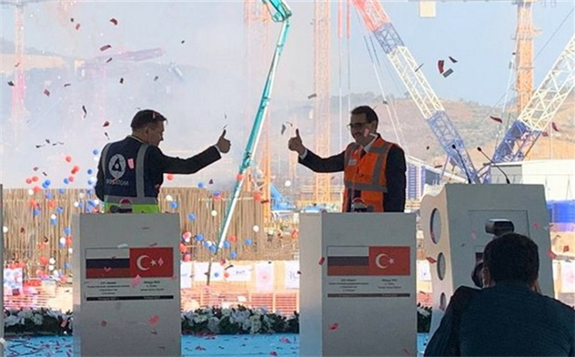 According to a statement from the Turkish President's office, Erdoğan said that "investment in energy is an investment in the future".
He noted that, despite the pandemic, Turkey's economy "continues to grow steadily", reaching a growth rate of 1.8% in 2020, while 4900 MWe of new power plant capacity "almost entirely from renewables" was installed.
"Our discovery of 405 billion cubic meters of natural gas in the Black Sea was one of the most important steps in our determination of 'Independent Energy, Strong Turkey'. We hope to receive good news from our drilling and seismic exploration efforts in the Eastern Mediterranean," he said.
Emphasising that nuclear energy "has a special place" in Turkey's energy policy, he said the goal is "to add nuclear energy, which runs on zero emissions while generating energy and does no harm to the environment, to Turkey's energy basket".
"As our economy grows, our need for reliable, uninterrupted and affordable energy grows as well. We have been working to diversify our energy projects with the understanding that investing in energy means investing in the future. In this regard, we attach great importance to energy efficiency and renewable energy," he said.
The first Akkuyu unit will be operational in 2023, he noted, further stressing that "no efforts are being spared in order for the other three reactors of this plant to be operational one after another", according to the statement.
Referring to the graduation of Turkish students from Russian university programmes, he said: "As a matter of fact, 186 of our students selected to be trained within the scope of the project returned to our country after completing their 6.5 years of challenging studies. These young people will take part in all the processes of our nuclear power plant, from engineering to management. Thus, Turkey's nuclear energy think tank will be formed and our national energy mobilisation will gain new generations."
The Akkuyu plant is equipped with the most advanced safety systems in compliance with International Atomic Energy Agency standards, he said.
After Erdoğan's speech, he and Putin instructed Turkish Energy and Natural Resources Minister Fatih Dönmez and Rosatom Director General Alexey Likhachov to launch the start of construction on unit 3.