MingYang Smart Energy's MySE8.3-180 hybrid drive offshore wind turbine has made its debut at the Xinghua Bay II offshore wind farm, the Chinese turbine maker said.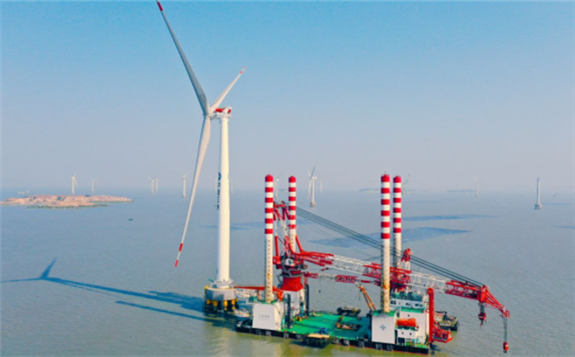 Unveiled in November 2019, the MySE8.3-180 turbine features 86.5-metre blades sweeping an area of 24,900 square metres, MingYang said.
During the installation, a single blade installation was applied to seize the limited weather window. The MingYang team tailored the blade lifting tool specifically for this project.
Located five kilometers off the coast of Xinghua Bay North, Fujian province, Xinghua Bay II is being developed by China Three Gorges (CTG).
CTG plans to install a total of 45 wind turbines with a combined capacity of 280 MW at the Xinghua Bay II.
The wind farm already features the first 8 MW turbine installed in Chinese waters, the Goldwind GW175-8.0, as well as the first double-digit unit ever installed offshore in the world, Dongfang Electric Corporation's (DEC) 10 MW prototype anti-typhoon unit.
Third Harbor Engineering is in charge of wind turbine foundation construction and wind turbine installation at the wind farm.
This article is reproduced at www.offshorewind.biz