On December 23, China Datang Co., Ltd. and Sinar Mas Group held a video ceremony of PMU acquisition. The cooperation between the two parties is a concrete practice of the major initiative of building the "21st Century Maritime Silk Road" proposed by Chinese President Xi Jinping and "Global Maritime Fulcrum" concept advocated by Indonesian President Joko Widodo. It is also the latest results of the cooperation between the two countries after the signing of the Regional Comprehensive Economic Partnership (RCEP). Kou Wei, President of China Datang, and Franky Oesman Widjaja, Chairman of DSS and GAR Sinar Mas, delivered speeches and witnessed the signing of the transaction documents.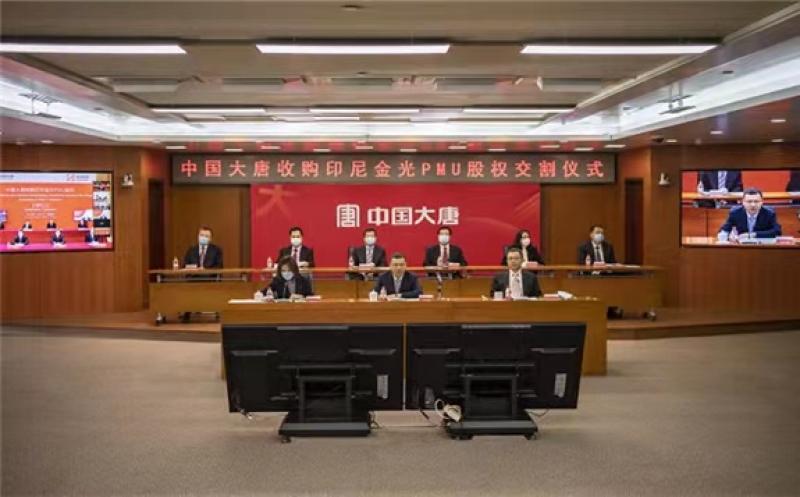 Liu Guangying, Vice President of China Datang, presided over the completion ceremony. Representatives from China Datang and Sinar Mas Group signed the transaction documents in Jakarta.

PMU Sinar Mas is a subsidiary of Sinar Mas Group, a multinational enterprise in Indonesia with presence in Asia, North America, Europe and Australia. PMU Sinar Mas acquired by China Datang has a total installed capacity of 600MW (designed rated installed capacity 692MW), with power generating assets located in fast-growing areas in Indonesia.

Kou Wei pointed out in his speech that the transaction has opened up a new chapter of cooperation between China Datang and Sinar Mas. Actively integrated into the economic and social development in Indonesia, Datang will strive to build a safe and sustainable energy enterprise. Adhering to compliance management, Datang will work hard to achieve effective stakeholder coordination by following the approach of extensive consultation, joint contribution and shared benefits. Being committed to corporate social responsibility, Datang will make more contribution to drive Indonesian economic recovery by developing a reliable localized enterprise.

Kou Wei said that through this cooperation, the strategic partnership between China Datang and Sinar Mas will be further strengthened. Driven by the commitment to common development, both parties will expand cooperation, in Indonesia, Southeast Asia and other third-party markets through collaboration and innovation, making greater contributions to promoting local economy and people's well-being.

Franky Oesman Widjaja pointed out in his speech that China has overcome the impact of COVID-19 epidemic and its economy has gradually returned to normal. It is expected to be the only economy in the world's major economies to achieve positive growth in 2020. Meanwhile, Indonesia has worked hard to overcome COVID-19 pandemic and has seen vigorous potential for recovery in various industries. It ranks the second in the world in terms of economic growth. It is expected that in 2021 and beyond, the bilateral cooperation and economic and trade exchanges between China and Indonesia will reach a new level.

Franky Oesman Widjaja expressed his appreciation to the teams from both sides, who have worked closely to ensure a successful transaction during the pandemic. He believes that the two parties will forge a productive partnership.

Upholding the principle of "extensive consultation, joint contribution and shared benefits", China Datang actively responds to BRI, continuously builds a new pattern of international development while unswervingly "go out", pursuing common development with partners from around the world. So far, China Datang has conducted projects in 13 countries along the Belt and Road.

Heads of relevant departments of China Datang, China Datang Overseas Investment Co.,Ltd., Sinar Mas Group, and consultants for the buyer and seller attended the ceremony.