South Korean President Moon Jae-in previously committed to moving away from nuclear power and toward renewable energy. Now, the Ministry of Trade, Industry, and Energy has released the final draft of the Ninth Basic Plan for Electricity Supply & Demand for 2020 to 2034, and it reaffirms the president's pledge to become carbon neutral by 2050.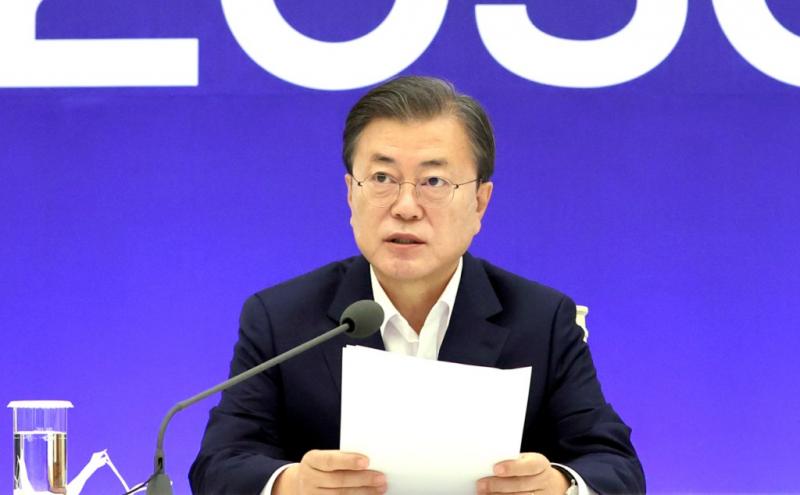 The plan is essentially the blueprint for the national energy mix. It states that by 2034, renewables will take up 41.9% of the country's power generation capacity, liquid natural gas (LNG) 31.8%, coal 15.6%, and nuclear 10.4%. Overall, the country's electricity generation capacity is expected to rise from 120.5 GW today to 185.3 GW by 2034.
Currently, South Korea's energy mix depends heavily on coal (40.4%), LNG (25.9%), and nuclear (25.6%). Renewables make up the least (6.5%) of total electricity production. (The percentages are 2019 figures.) In 2034 it will be coal (15.6%), LNG (31.8%), nuclear (10.4%), and renewables (41.9%).
The plan involves shutting down 30 coal-fired power plants – all the ones which will have reached their operational lifetime limit of three decades by 2034. All but six of those facilities will be converted into LNG power plants to ensure a stable electricity supply.
Aside from those, there are seven coal-fired power plants currently under construction. They will be built as planned and represent the remaining coal part of the energy mix. This means that coal-fired plants' generation capacity will shrink from 38.5 GW to 29 GW by 2034, while LNG power plants will increase from 41.3 GW to 59.1 GW.
During the same time, nuclear power plants will diminish to 17, reaching their peak of 26 in 2024. The Moon administration has banned the lifetime extension of existing nuclear power plants and the construction of new ones. Resultantly, nuclear energy generation capacity will drop from 23.3 GW now to 19.4 GW in 2034.
To make up for the loss of GWs from coal and nuclear, the government will roll out 77.8 GW of renewable energy generation facilities by 2034. That's almost four times the current 20.1 GW. The government's midterm goal for wind and solar power has been revised to 42.7 GW by 2025. However, the president's Green New Deal initiative will likely add 12.8 GW more to that.
The government also plans to install more power grids in regions (such as Yeonggwang and Sinan counties in South Jeolla Province) where renewable energy facilities are concentrated.
South Korea's transition to green energy is expected to cut 193 million tons of greenhouse gases compared with projected levels.