According to EMBER's statistics, among the world's top ten coal power countries, 5 countries have committed to achieving carbon neutrality, including China (2060), Japan (2050), South Korea (2050), South Africa (2050), Germany (2050).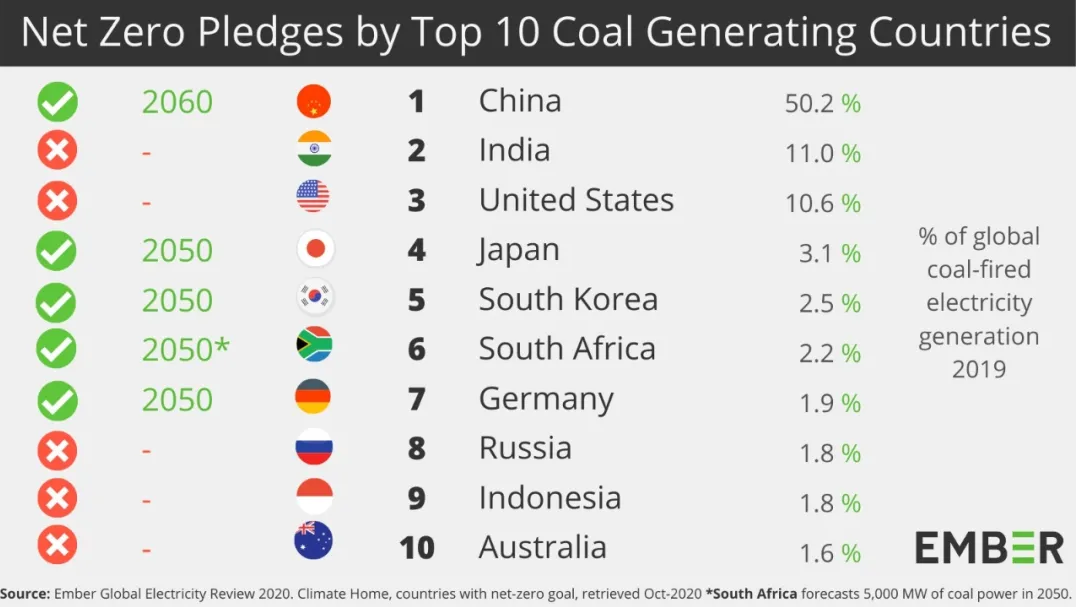 Based on the data in 2019, these 10 countries accounted for 86.7% of the global coal power, and each country's coal power output accounts for the following:
——China (accounting for 50.2% of global coal power)
-India (11.0%)
——United States (10.6%)
——Japan (3.1%)
——South Korea (2.5%)
-South Africa (2.2%)
——Germany (1.9%)
-Russia (1.8%)
——Indonesia (1.8%)
-Australia (1.6%)
Previously, the Energy & Climate Intelligence Unit organized statistics on the "zero carbon" or "carbon neutral" climate goals proposed by dozens of countries and regions. The net zero emission tracking table released by it counts the progress of various countries, including: 2 countries that have been implemented, 6 countries that have legislated, and the EU (as a whole) and 3 other countries that are in the state of legislation. In addition, 12 countries (including EU countries) have issued policy declaration documents.
The three major East Asian economies, China, Japan, and South Korea, are not included in their tracking tables. However, from September 22 to October 28, China, Japan and South Korea announced their respective carbon neutral targets.
The analysis of the NECPs shows that 11 out of 18 EU coal-countries do not have a Paris-compatible plan to phase-out coal.
No coal transition: 7 countries plan to stick with coal beyond 2030 – but look set to receive most of the Just Transition Fund.
Coal to gas transition: 4 countries plan to phase-out coal by 2030 – but will swap it for fossil gas.
Fossil-free transition: 7 countries are on track for a 2030 coal phase-out without a significant increase in fossil gas
<section style="margin: 0px 8px; padding: 0px; max-width: 100%; color: rgb(51, 51, 51); font-family: -apple-system-font, BlinkMacSystemFont, " helvetica="" neue",="" "pingfang="" sc",="" "hiragino="" sans="" gb",="" "microsoft="" yahei="" ui",="" yahei",="" arial,="" sans-serif;="" font-size:="" 14px;="" letter-spacing:="" 2px;="" text-align:="" center;="" box-sizing:="" border-box="" !important;="" overflow-wrap:="" break-word="" !important;"="">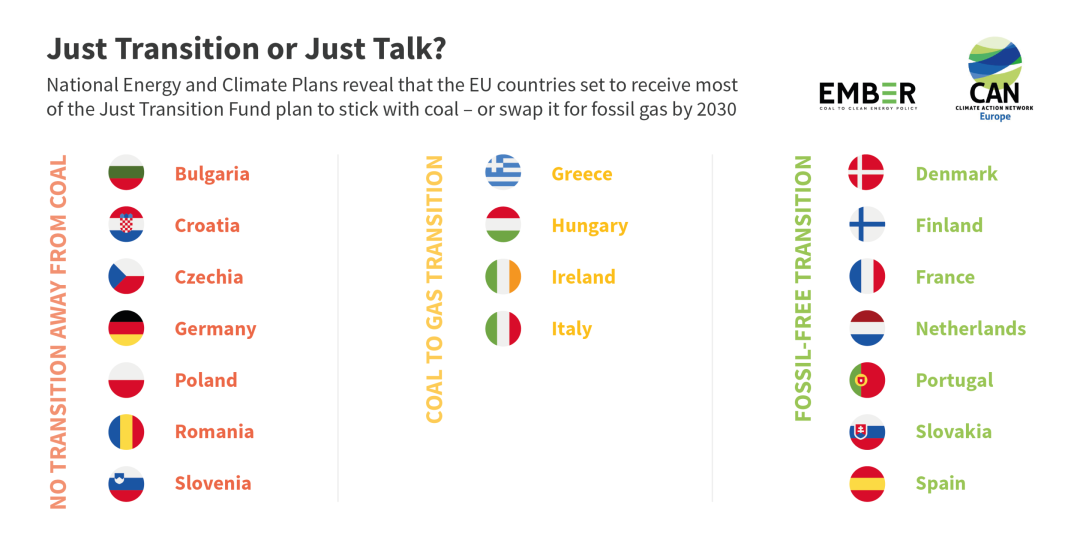 Several major European coal countries, including Bulgaria, Croatia, Germany, Poland, Romania and Slovenia, do not plan to phase out coal before 2030. Between 2020 and 2030, the total installed coal power in the above seven countries will only drop by 42%. By 2030, it is estimated that there will be 52 GW of coal power in operation, 90% of which will be in the Czech Republic, Germany and Poland.
Charles Moore, EMBER's European project leader, said that even if four countries pledged to phase out coal, they still decided to use natural gas. This is still another dead end for the EU to fulfill its commitments in the Paris Agreement.

Reference source: EMBER, International Energy Small Data, ECIU
https://www.climatechangenews.com/2019/06/14/countries-net-zero-climate-goal/
https://ember-climate.org/project/just-transition/