Obtaining a licence for the construction of new units at Hungary's Paks-II NPP is expected by autumn 2021, according to the outcome of a meeting in Budapest between Rosatom Director General Alexey Likhachev and Hungarian Prime Minister Viktor Orban.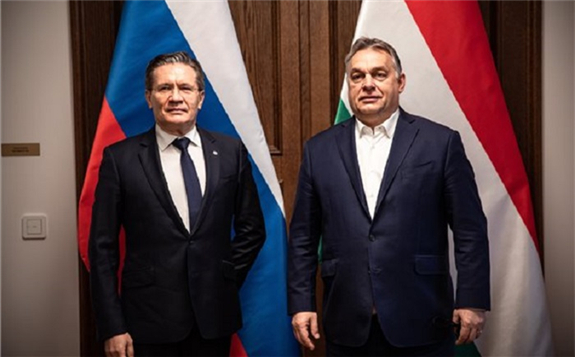 The meeting was also attended by Alexander Merten, Advisor to Likhachev, and Russia's Ambassador to Hungary, Vladimir Sergeev.
The meeting agreed that the Paks-II nuclear power plant project is on schedule. Over the past year, important milestones have been achieved in preparing two new VVER-1200 power units for construction.
In June, an application for the construction licence was filed with the Hungarian Atomic Authority (OAN), and on 19 November, a permit was obtained from the Hungarian Energy and Utilities Office (MEKH) for the connection of two planned units to the Hungarian power system.
Permits have also been obtained for the construction of a number of support facilities at the site and their construction has begun. Future tasks include further work on the construction and installation base; earthwork to strengthen the soil; and construction of diaphragm walls for the excavation and creation of a foundation pit. This work will begin in the first half of 2021.
Other Rosatom projects that are being implemented in cooperation with Hungarian partners include the uninterrupted supply of fuel for the existing Paks station, a joint venture with MVM in terms of service and equipment supplies, plans for the implementation of projects in the field of nuclear medicine and other joint endeavours.
The Paks-II NPP project is being implemented on the basis of the Russian-Hungarian intergovernmental agreement signed in 2014. The general contractor is Rosatom's engineering company ASE EC. The turbine island equipment is being supplied by GE, and the automated process control system (APCS) is being supplied by a consortium of Framatome and Siemens.