Swedish utility Vattenfall and Estonia's Fermi Energia have signed a Letter-of-Intent to further expand their cooperation on small modular reactors (SMRs). For the past year Vattenfall has participated in a feasibility study by Fermi Energia to explore the possibilities for the deployment of such reactors in Estonia.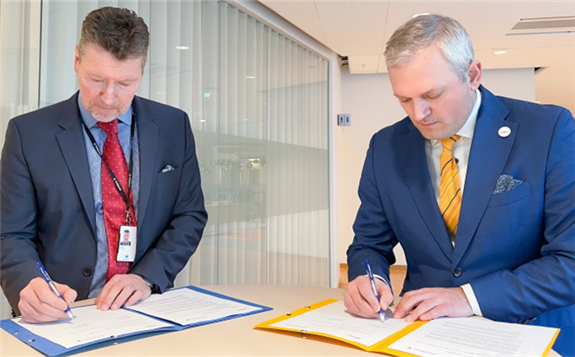 Vattenfall said the collaboration will "assess in more detail the maturity of SMR technology and the prospects for deployment of one or several such reactors in Estonia". In addition to Vattenfall, the initiative involves other European energy companies, including Finnish power company Fortum and Belgian engineering firm Tractebel. "All participants gain practical SMR technology insights and contribute their own experience," Vattenfall said.
"Recently, we've seen a growing interest in small-scale nuclear reactors," said Torbjörn Wahlborg, senior executive vice president of generation at Vattenfall. "Vattenfall's intent with this project and in stepping up our cooperation is to support Fermi Energia to achieve a successful European SMR initiative. We will now deepen our studies in specific work areas and extend our collaboration until the submission of an application for a decision in principle by the Estonian Parliament. This will provide know-how to Vattenfall in an area where we're building up our competence."
Vattenfall will share its previous experience of nuclear power plant construction, said Mats Ladeborn, head of fleet development within BA Generation. The particular areas of collaboration under the latest agreement are the structuring of new build financing, construction and costing, human resources development, SMR operator and staff training, and supply chain developments.
"We're happy to cooperate with a leading European utility operating nuclear power that is committed to reaching decarbonisation in one generation," said Fermi Energia CEO Kalev Kallemets. "Higher safety, simplicity, lower capital cost and smaller size make nuclear a realistic option also for Estonia. This is recognised by the Estonian gvernment in the forming of a governmental nuclear energy working group. Innovative nuclear energy deployment is very challenging, but it is equally challenging to reach true carbon neutrality in all sectors of a Nordic society."
On 23 November, Fermi Energia signed a similar cooperation agreement with Finland's Fortum.
Fermi Energia was founded by Estonian energy and nuclear energy professionals to develop deployment of SMRs in Estonia. The company in July last year launched a feasibility study on the suitability of SMRs for Estonia's electricity supply and climate goals beyond 2030, following a financing round from investors and shareholders. It selected four SMR designs to be included in the feasibility study: Moltex Energy SSR-W300, Terrestrial Energy IMSR-400, GE Hitachi BWRX-300 and NuScale SMR. All studies are expected to be completed by the end of this year and will be released in early-2021.