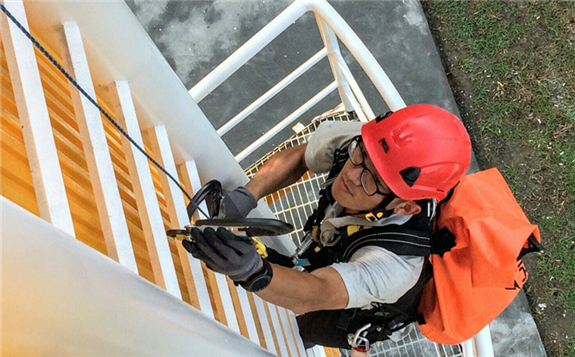 Taiwan's first offshore wind energy training center has secured Global Wind Organisation (GWO) accreditation to deliver Basic Safety Training (BST) and Basic Technical Training (BTT).
The center is developed by Taiwan International Windpower Training Corporation (TIWTC), a joint venture of CWind Taiwan, Taiwan International Ports Corporation (TIPC), Taiwan Power Company (Taipower), China Steel Corporation (CSC), China Ship Building Corporation (CSBC) and Swancor.
TIWTC has been delivering BTT courses since December last year, while the full set of BST modules, including sea survival, working at height, manual handling, first aid and fire safety, will commence this August.
The center is said to comprise dedicated training facilities such as a swimming pool, mock-up training tower, and classroom and technical teaching facilities, in order to deliver realistic training scenarios in a safety-controlled area.
The joint venture stated it plans to further expand the curriculum of offshore safety courses later this year.
"We truly appreciate Bureau of Energy's generous support and we are extremely proud that our training center will be helping to advance the government's localization plans for Taiwanese offshore wind, namely the people who will make it all possible offshore," said Vincent Tsai, General Manager of CWind Taiwan and CEO of TIWTC.
"When we were developing our strategy for the Taiwanese market, we realized we had to invest in a dedicated training facility in order to guarantee that we could deliver our business in Taiwan with the right technically skilled people who were trained to the exacting health, safety and quality standards we expect."