Chinese automaker Zhejiang Geely Holding Group and Daimler will form a joint venture with the ambition of turning the German company's' struggling Smart car unit into an electric car brand with global appeal.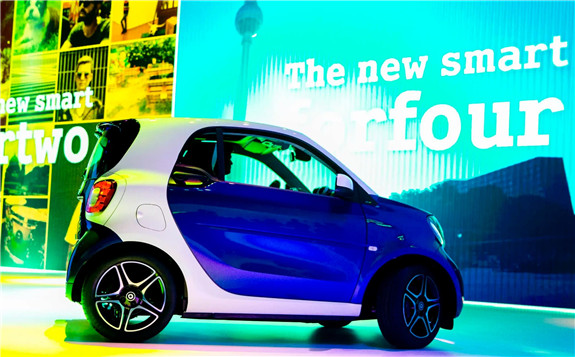 The partners said Thursday that the 50-50 joint venture will be set up by the end of the year, with plans to roll out a new generation of electric vehicles for global markets in 2022. The amount of investment and the location of its production base have not been disclosed.
Geely, the de facto top shareholder of Daimler, had been pressing the German automaker for technological collaboration, but negotiations had become bogged down. The reluctant Daimler finally agreed to work together to turn around the money-losing business, but the partners many not necessarily share the same business goals.
The Smart brand "has a unique appeal and strong commercial value. Geely Holding and Daimler look forward to this challenging and exciting new project," Geely Chairman Li Shufu said in a statement released Thursday. "The synergies from this cooperation will lead to mutual benefits."
Li acquired in February 2018 a nearly 10% stake in Daimler for around $9 billion through an investment fund. The German automaker publicly welcomed the investment but has been wary of any influence the Chinese company may try to exert.
Geely is interested in Daimler's cutting-edge technologies, including autonomous driving. And the Smart car joint venture was the compromise they came up with more than a year after Geely's investment.
"We look forward to further enhancing the brand with Geely Holding, a strong partner in the electric vehicle segment," said Dieter Zetsche, chairman of Daimler and head of its Mercedes-Benz Cars division.
Wuhan in Hubei Province is seen as a leading candidate for the production site. Mercedes is expected to handle the design while Geely takes care of development. Daimler will continue building Smart cars in France and Slovenia until 2022. The French plant will then switch to Mercedes electrics.
Daimler's Smart-car business was formed in 1994 through a collaboration with Swiss wristwatch company Swatch. The round two-seater coupe unveiled at a 1997 auto show in Frankfurt intrigued auto enthusiasts. Yet sales have languished of late. Unit sales of Smart cars peaked around 150,000 in 2004 but came to just 128,000 last year. Many consumers in China consider any car over $18,000 as overpriced, according to an industry analyst there.
Geely, founded in 1986 by Li, started out as a refrigerator parts maker and then broadened operations to motorcycles, before launching an automobile business in 1997.
It has grown into the third-largest player in China's passenger vehicle segment, after Volkswagen and General Motors. Its market share came to around 7% last year, according to British research company LMC Automotive. Globally, its unit sales grew 18.3% to 2.15 million last year.
Geely has expanded through aggressive acquisitions abroad. It strategically promoted core engineers at acquired companies to boost their morale, helping Sweden's Volvo Cars and Britain's Lotus Cars achieve record unit sales last year.
In Communist China, connections to key party officials hold great sway. Li deepened relations with Xi Jinping when he was the party chief in Zhejiang Province, years before he became national leader and president. Some even say the two may be related through marriage.
This may explain why Geely has been exempt from Beijing's scrutiny of overseas acquisitions. The automaker ranks fifth in China in sales of new-energy vehicles, and operates ride-share services using new-energy vehicles in 30 cities. Its broad reach to Chinese consumers probably appeals to Daimler.
But "Daimler is still skeptical of Geely for amassing its holdings of German automaker shares, and as a result, they agreed on cooperation on the Smart brand," said an analyst familiar with the global auto industry. Daimler gained a partner in the struggling unit and avoided a foreign hand in its mainstay Mercedes operations.
As a seasoned dealmaker, Li must be fully aware of Daimler's reservations. If he produces results in the Smart collaboration, he may press for additional cooperation involving the crown jewel, Mercedes.