Fred Olsen Renewables is teaming up with Hafslund Eco to work together in the offshore wind sector.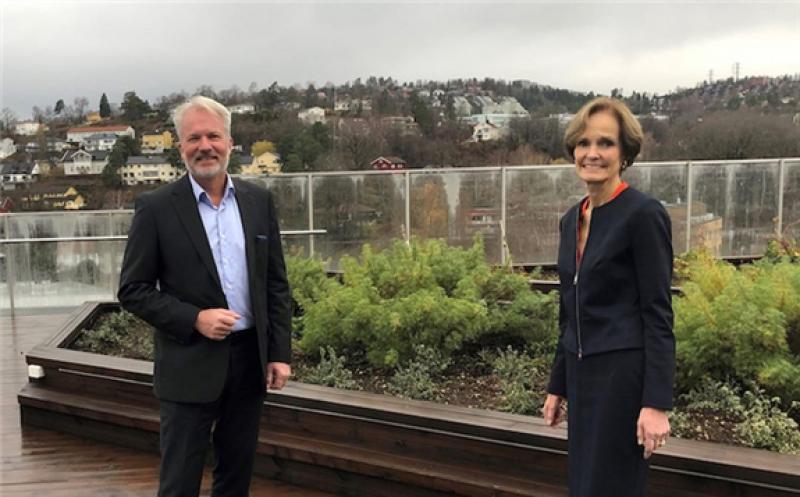 The 50:50 partnership will initially work to apply for licenses for the development of offshore wind projects on the Norwegian shelf at Utsira Nord and Sorlige Nordsjo 2.
Fred Olsen Renewables board chair Anette Olsen (pictured, right) said: "This collaboration brings together two companies that have a long tradition of investing long-term in Norwegian value creation.
"Hafslund Eco has extensive expertise and experience in renewable power production, power markets and infrastructure.
"We are therefore very happy to have Hafslund Eco as a partner."
Hafslund Eco chief executive Finn Bjorn Ruyter (pictured, left) said: "Fred Olsen Renewables and related companies have cutting-edge expertise in wind power, offshore installations and offshore operations.
"Here we gather complementary environments with long experience, and together we employ 3500 competent employees."
Olsen and Ruyter believe the collaboration will make a strong contribution to building an industry within offshore wind in Norway.
The companies will focus on both floating and bottom-fixed offshore wind and are actively working to further the concepts.
They added that the framework conditions for the Norwegian offshore wind market are under development and both are happy to contribute input to the authorities on this.
Ruyter said: "We would like to contribute with our thoughts and suggestions on how to build, finance and put in place infrastructure in connection with an offshore wind investment."