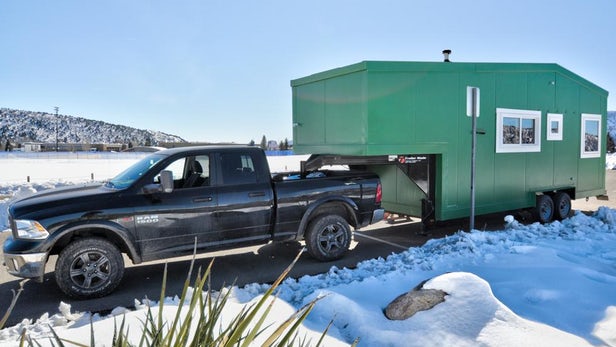 The Tucson weighs 11,700 lb, including all the owner's gear and the heavy solar system(Credit:Rocky Mountain Tiny Houses)
Rocky Mountain Tiny Houses was commissioned by a client who wanted a model that he could regularly tow with his existing pickup truck. In response, the firm went to significant trouble to ensure the Tucson tiny house is as light and aerodynamic as possible, while also adding neat features like solar power and an elevating bed.
The Tucson measures 28 ft (8.5 m)-long, and is finished in pink on one side and green on the other, which was a request from the owner. Structurally, the home consists of metal SIPs (structural insulated panels), which Boulder, Colorado-based Rocky Mountain Tiny Houses says are lighter but more expensive than the wood-lined SIPs often used in tiny houses.
The weight shedding continues inside too, with wall partitions and cabinets built using a lightweight plywood that weighs 40 percent less than regular ply. In all, the weight-saving measures resulted in a home that weighs 11,700 lb (5,307 kg), including all the owner's gear and the heavy solar system. To put this into perspective, Escape's smaller-sized Tradition weighs up to 12,000 lb (5,443 kg), depending on options. The firm also tried to improve the aerodynamics.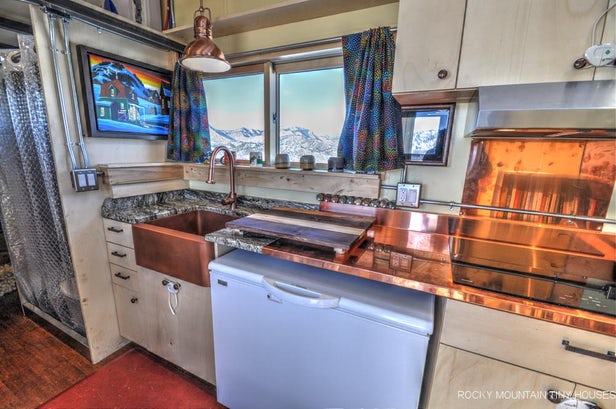 "Weight is one thing, but tiny houses are also notoriously tall and act like big sails going down the highway, so we also took wind drag into consideration," says Rocky Mountain Tiny Houses. "Because the sleeping arrangement hinges around an elevator bed, and the loft was only used for utilities and storage, we started by making the house 12 in (30 cm) shorter than normal at the highest point ( 12.6 ft vs 13.6 ft/3.8 m vs 4.1). Next, we took our anecdotal experience (completely non scientific) from which roof shapes seem to be most aerodynamic, and applied it to this design."
The interior very much conforms to Rocky Mountain Tiny Houses' usual rustic aesthetic. Visitors enter into the kitchen area, which features a copper sink and countertop. A small and efficient fridge is installed, though curiously the owner didn't want to use propane so the hobs are electric, despite them using a lot of power. The raised gooseneck part of the trailer (accessed by storage-integrated stairs) is used for storage and there's also a folding dining table and a wood-burning stove, as well as a cat tree.
A small hallway space squeezes in a shower, toilet, pull-out pantry, solar equipment area, and a clothes closet. A 60 gallon (227 liter) freshwater tank with pump and ventilation system are also nearby.
The hallway leads into a sleeping/living room area with built-in sofa and shelving (though this is not very clear from the photos available). At the push of a button, the motorized elevating bed drops down from near the ceiling to turn the space into a bedroom.
The Tucson's solar power system comprises two 360 watt panels on an adjustable base on the roof, plus a couple that serve as a fold up awning to the side of the house. These are wired into a controller, inverter, and a bank of 3 24 V/ 100 Ah lithium batteries.
All the solar and weight-saving gear significantly raised the price on this one and a similarly equipped house as shown will set you back around US$93,000.