Hyundai's hydrogen-powered fuel cell heavy-duty truck HDC-6 Neptune has won a 2020 Future Mobility of the Year award.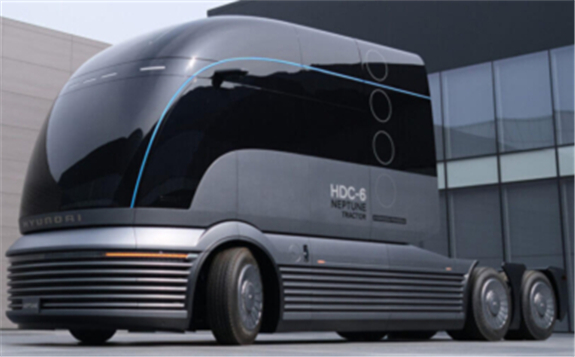 Established by the Korea Advanced Institute of Science and Technology (KAIST) Graduate School for Green Transportation in 2019, the FMOTY awards recognise concept vehicles that make outstanding contributions to the future of mobility.
Sixteen judges from 11 countries awarded HDC-6 Neptune in the 'Public & Commercial' category, from a total of 71 concepts.
Debuting at the North American Commercial Vehicle Show last November, HDC-6 Neptune took inspiration from the iconic Art Deco streamliner railway trains of the 1930s.
The concept embodies Hyundai Motor's vision for a zero-carbon emission future as the company leads a paradigm shift to eco-friendly commercial vehicles.
As the demand for zero-carbon and eco-friendly commercial vehicles is expected to increase gradually, FMOTY judges showed support for the first concept vehicle to incorporate hydrogen fuel cell power into commercial delivery.
"HDC-6 Neptune is like an ambassador concept vehicle that illuminates Hyundai Motor's top status and prowess in next-generation fuel-cell electric vehicles and fuel-cell technology," said SangYup Lee, Senior Vice-President and Head of the Hyundai Global Design Center.
"It embodies Hyundai Motor's vision and customer value as the leader of global hydrogen mobility industry in its futuristic design."