South Korea's top carmaker Hyundai Motor Co. has shipped 10 hydrogen-powered trucks to Switzerland, its first overseas market in the category it has pioneered.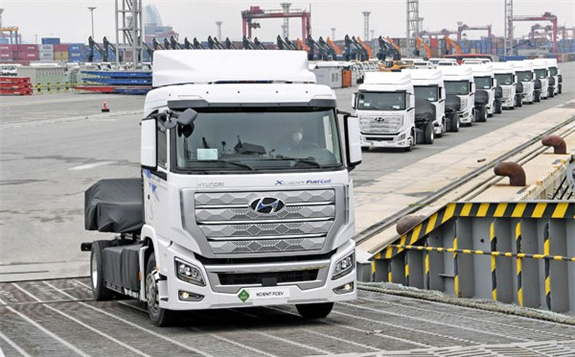 Hyundai Motor which established the world's first production line for hydrogen trucks on Monday announced that it has shipped 10 XCIENT Fuel Cell trucks to Switzerland from the port of Gwangyang in South Jeolla Province.
Shares of Hyundai Motor rose 3 percent to 102,000 won.
Following its first export, Hyundai Motor plans to expand its leadership in world-class level hydrogen fuel cell technology to commercial sector and solidify position as a leading hydrogen-powered electric brand. It also plans to expand hydrogen trucks to other parts of Europe including Germany, the Netherlands, Austria, and Norway, as well as North America.
XCIENT Fuel Cell truck will be delivered to Hyundai Hydrogen Mobility, a joint venture between Hyundai Motor and Swiss hydrogen solutions provider H2 Energy set up in September, last year.
Hyundai Motor plans to ship an additional 40 trucks by the end of this year and total 1,600 units by 2025.
XCIENT Fuel Cell truck is a 34-ton large-size cargo truck equipped with 190 kilowatt (kW) hydrogen fuel cell system consisting two hydrogen fuel cells and maximum 350kW output driving motor. The green truck has been developed based on pre-survey of clients that demanded for a driving range of about 400 kilometers per single charge and 8 to 20 minutes hydrogen charging time.
In order to meet demand, Hyundai Motor installed 7 large hydrogen tanks between the cap with driver's seat and cargo loading space, allowing 32 kilograms of hydrogen saving capacity.
Once the 10 trucks arrive in Switzerland, Hyundai Hydrogen Mobility is expected to carry out specialization work before delivering them to complex retail chains that operate both supermarkets and gas stations and grocery retailers.
Hyundai Motor said that its hydrogen-powered trucks will be retailed in Switzerland in unique form – based on a pay-peruse mobility service system that allows operators to pay based on the amount operated. The fee includes costs related to vehicle operation such as for charging, maintenance, insurance, and repair. Retails that use XCIENT Fuel Cell truck will only have to hire a truck driver.
Hyundai Motor's such innovative system is expected to contribute to accelerating expansion of its hydrogen-powered commercial vehicles as it helps lower initial cost and psychological burden of introducing hydrogen-powered electric trucks. Retail customers are expected to enhance corporate social value such as sustainability and respond quickly to policies against diesel locomotives in Europe.
Lee In-cheol, head of Hyundai Motor's commercial business division, said that the company has been able to solidify its global leadership in hydrogen fuel cell commercial vehicle market by mass producing and selling world's first hydrogen-powered large trucks.
Hyundai Motor has gone beyond supplying simple vehicles and established a hydrogen business ecosystem that circulates between hydrogen production, retail, and consumption based on close partnership with Europe's hydrogen value chain partners.
According to global consulting firm McKinsey, up to 4 million transportation-use hydrogen electric trucks are expected to be supplied globally by 2030. Environmentally-friendly vehicles are in high demand particularly in Europe as countries including Norway are pushing to ban sale of diesel locomotives from 2025.
As part of efforts to take the lead in bourgeoning global hydrogen fuel cell truck market, Hyundai Motor plans to launch a long-distance, large-size tractor based on HDC-6 Neptune, a hydrogen-exclusive large truck concept car with 1,000 kilometer driving range per single charge in North American and Europe. The large tractor will be equipped with durable and large output next-generation hydrogen fuel cell system.
In Korea, Hyundai Motor plans to supply 100 hydrogen buses to regional governments in the second half of this year starting with Jeonju in North Jeolla Province, Busan Metropolitan City, Changwon in South Gyeongsang Province, Ulsan city, Seosan and Asan both in South Chungcheong Province.