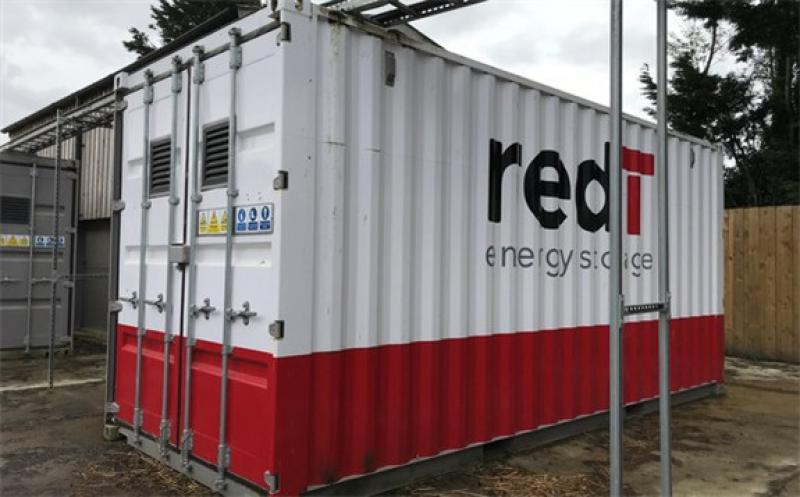 Flow batteries use chemicals suspended in water tanks to store power, and do not degrade as quickly as lithium ion alternatives.
For the first time ever a flow battery is set to be used to help balance electricity supply and demand on the UK grid, after energy storage firm RedT and energy tech firm Open Energi announced late last week that their vanadium redox flow machine has qualified for National Grid's frequency response market.
A typical flow battery consists of two tanks of liquids which are pumped past a membrane held between two electrodes.
Advocates of the technlogy claim the batteries do to degrade as quickly as regular lithium-ion batteries and could therefore prove a valuable grid-scale asset that can be regularly charged and discharged.
RedT said its 300kWh flow machine has achieved pre-qualification status from National Grid to provide Dynamic Firm Frequency Response (dFFR) services to the UK grid, and will help to balance the micro-second fluctuations in voltage that have become more pressing to manage with the growth of intermittent renewable power.
The machine, housed at an industrial site in Dorset, is also integrated onto Open Energi's dynamic demand platform, which uses artificial intelligence to control grid balancing demand response services.
"Flow machines are traditionally thought of as long duration energy storage assets and there is a common misperception flow machines can't provide the fast response required for grid services," noted Scott McGregor, RedT CEO. "With the help of Open Energi and their impressive Dynamic Demand 2.0 platform, we have been able to prove that our flow machines can provide a full range of services with no marginal degradation cost per cycle, making them a viable and economically attractive alternative to traditional lithium-ion systems."
In related news, last week the University of Birmingham and biomass firm AMP Clean Energy announced a new partnership to develop a heat storage system that will turn solid heat into a liquid.
The scheme, funded by Innovate UK, plans to use Phase Change Material (PSC) that when melting and solidifying at a certain temperature is capable of storing and releasing large amounts of energy. It will be used in AMP Clean Energy's 'Urban Reserve' plants to store waste heat, which can be used to supply low-carbon heat to nearby buildings. According to AMP Clean Energy, it will improve the efficiency of its Urban Reserve generation sites by between 40 and 90 per cent.
"We are delighted to be working with the team at The University of Birmingham on this exciting project," said Mark Tarry, chief financial officer at AMP Clean Energy.
"Recent studies have shown that a decentralised, flexible energy system will be a vital component of future power generation, so projects like this offer new solutions for much needed heat decarbonisation, whilst continuing to support the growth of renewables," he added. "In addition to the vastly increased efficiency it will provide, the small size of the storage system will provide a more versatile application in urban areas, and is set to be a real game-changer."