Ampol and Evie Networks will tomorrow open the first ultra-fast electric vehicle (EV) charging station in Ampol's retail network at Avenel in Victoria.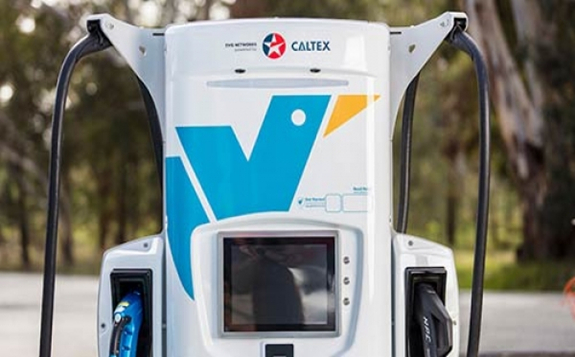 The Avenel site, which is currently branded Caltex, is the first location of an initial roll out of EV charging across six Ampol sites in New South Wales and Victoria that will be delivered over the next 12 months.
The six sites will form part of Evie Network's ultra-fast charging network, connecting the east coast of Australia from Cairns to Adelaide. Backed by the St Baker Energy Innovation Fund and accompanied by a recoupable grant from the Australian Renewable Energy Agency (ARENA), Evie's network will be the largest ultra-fast EV charging network in Australia.
Alan Stuart-Grant, Ampol's Executive General Manager, Strategy and Corporate Development, said the pilot would provide an opportunity to test how EV charging can be integrated into a traditional service station forecourt.
"Our national network of retail sites, along Australia's major highways and close to existing high-traffic road infrastructure in metropolitan areas, makes us uniquely placed to play a key role in the delivery of EV charging.
"We're proud to partner with Evie Networks who bring strong EV charging expertise and a quality network that will ensure we continue to build our knowledge of services and technologies that will shape our future. We look forward to welcoming EV customers to our Avenel store."
Evie Networks Chief Executive Officer, Chris Mills, said the partnership with Ampol was a significant step forward in delivering its national network build, drawing on Ampol's high quality roadside convenience and amenity.
"Partnerships with trusted brands, like Ampol, help us deliver our mission to accelerate EV adoption in Australia. Using Evie Networks' cutting edge-technology helps our host partners showcase their sustainability credentials as well as returning solid commercial benefits from increased foot traffic and convenience sales while EV customers are on site."
The Avenel site will have two available bays for EV owners, with charging to be delivered in around 15 minutes using Evie Networks' ultra-fast 350-kilowatt Australian-made, Tritium technology. As well as offering first-class amenities and food and convenience products to keep drivers refreshed, the Avenel EV site will be open 24/7 to ensure that drivers can charge their vehicles at any time of the day. All electricity delivered through the EV charging site will be 100% accredited GreenPower procured from renewable generators in the market. PWKD15062020