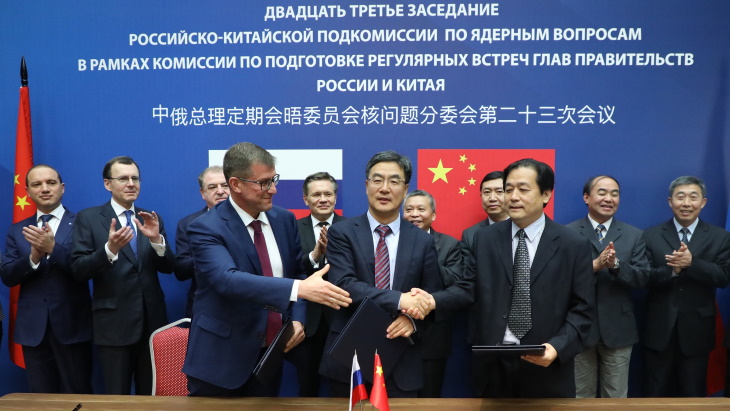 TVEL, the nuclear fuel manufacturer subsidiary of Russia's Rosatom, has signed a supply contract for units 7 and 8 of the Tianwan nuclear power plant in China's Jiangsu province. The customers are Suneng Nuclear Power Corporation and China Nuclear Energy Industry Corporation, which are both subsidiaries of China National Nuclear Corporation (CNNC).
The contract signing ceremony took place in Nizhny Novgorod, in the Volga region of Russia, in the presence of Alexey Likhachov, Rosatom director general, and Zhang Kejian, chairman of China Atomic Energy Authority, at the 23rd session of the Chinese-Russian Subcommittee on Nuclear Issues.
The agreement includes supplies for the first core as well as for further refuelling, envisaging an option of payments in the national currencies of Russia and China, TVEL said. Rusatom Overseas, another Rosatom subsidiary, coordinated the contract negotiations from the Russian side. The value of the contract and the size of the fuel were not disclosed.
The two new Russian-design units at Tianwan will be powered by VVER-1200 reactors. At present, Tianwan NPP has four VVER-1000 units running on nuclear fuel produced either by Novosibirsk Chemical Concentrate Plant, part of TVEL, or by Yibin fuel plant, from Sichuan province, where fabrication of fuel assemblies for VVER-1000 is localiced under licence with TVEL.
"Since the first unit's commissioning at Tianwan NPP in 2006, TVEL has been not just supplying nuclear fuel to the customer, but also providing comprehensive support introducing the best Russian practices," Oleg Grigoriyev, TVEL's senior vice president for commerce and international business, said.
In particular, he said, TVEL engineers have enabled switching the VVER-1000 units to new-generation TVS-2M fuel and have also helped to launch the Russian-design nuclear fuel fabrication facility at the Yibin plant.
The general contract has been signed for Tianwan Phase IV was signed in March by AtomStroyExport, Rosatom's engineering division, and CNNC.
Rosatom said the contracts had been prepared in accordance with the strategic package of agreements signed during a visit by Russian President Vladimir Putin to China in June last year. Those agreements included the construction of two VVER-1200 reactors as units 7 and 8 of the Tianwan plant, as well as two VVER-1200 units to be built at the new Xudabao site. Contracts for Tianwan 7 and 8 were signed between CNNC and Rosatom in early November marking the implementation of the framework contracts.