The leader of the Polish opposition party said Saturday his constituents plan to phase out coal by 2040.
Coal mining in Poland produced 144 million metric tons of coal in 2012, providing 55 percent of that country's primary energy consumption, and 75 percent of electrical generation. Poland is the second-largest coal-mining country in Europe, after Germany, and the ninth-largest coal producer in the world. The country consumes nearly all the coal it mines, and is no longer a major coal exporter.
Grzegorz Schetyna, leader of the Civic Platform party, spoke at a convention of the group. The country is set to hold elections later this year.
"Within eight years, we will reduce air pollution in Poland to a level that is safe for health," Schetyna said on Twitter.
"We commit ourselves that by 2030, we will eliminate coal in the heating of houses and flats, until 2035 in system heating, and up to 2040 in the energy sector," he added.
Coal dominates Poland's energy mix, according to the 2019 BP Statistical Review of World Energy.
In 2018, consumption of coal was 50.5 million tons of oil-equivalent (Mmtoe), nearly 48% of the total annual consumption of 105.2 Mmtoe. In comparison, oil and natural gas reached respectively 32.8 Mmtoe and 17 Mmtoe. Hydroelectric accounted for 0.4 Mmtoe and renewables for 4.4 Mmtoe.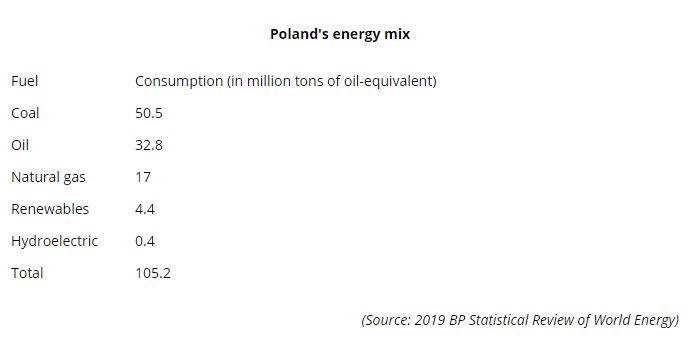 Poland's carbon dioxide emissions in 2018 were 322.5 million metric tonnes, growing at an annual rate of 2.3%.
The country joined the International Energy Agency (Iea) in 2008, which has been urging the government to pursue a more sustainable path, as the heavy reliance on coal was the largest source of greenhouse gas emissions and local air pollution.
"Poland must step up investment in new generation and strengthen interconnections with neighboring countries if the country is to satisfy future demand for electricity," the Iea had said in the presentation of the Poland 2016 Review.