For the administration of President Donald Trump, a policy of "energy dominance" means reducing dependence on imported oil and promoting exports to boost the national economy and Washington's political influence overseas.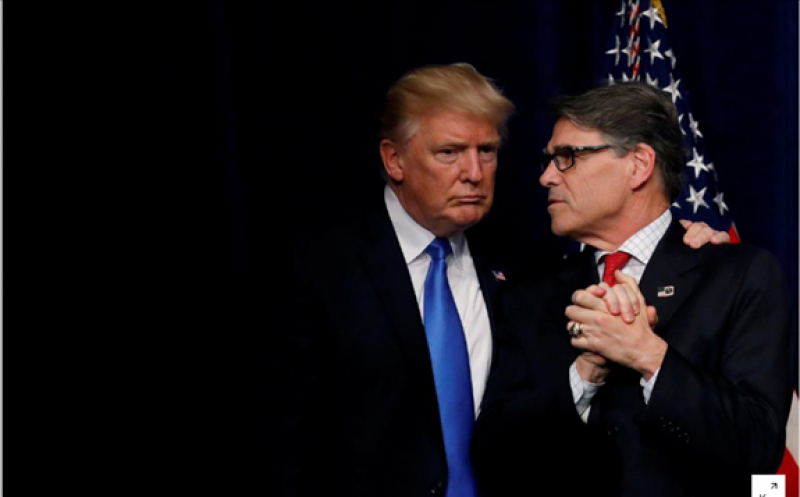 FILE PHOTO: U.S. President Donald Trump talks with Energy Secretary Rick Perry after delivering remarks during an "Unleashing American Energy" event at the Department of Energy in Washington, U.S., June 29, 2017. REUTERS/Carlos Barria/File Photo
For many of America's European allies, however, it means unwelcome interference in its markets.
The Trump administration has capitalized on a decade-long U.S. drilling boom to pursue some of the most aggressive foreign energy policies in the nation's history. So far, that has meant sanctions on oil exports from OPEC-members Iran and Venezuela and threats against firms helping Russia build a natural gas pipeline into Europe.
To fill the supply gap, Washington is promoting a rising wave of U.S. crude oil and natural gas exports.
The Trump administration has billed the moves as a way to achieve foreign policy goals, with the added benefit of helping both U.S. energy producers expand their markets and American allies diversify their supplies. But Washington has irritated many European diplomats and energy companies who resent its growing global influence on energy markets and view its policies mainly as a way to give U.S. producers an advantage, according to interviews with diplomats, executives and analysts.
Growing friction over energy is grating on trans-Atlantic ties that are already strained by squabbles over NATO funding, trade, climate change and diplomatic gaffes.
"We value highly the relationship with our American partners, allies and friends," EU Economics Commissioner Pierre Moscovici told reporters at a briefing in Brussels last month. "But ... they should also refrain from unilateral action."
Moscovici also advocated using the euro in more international energy transactions, which are almost universally conducted in U.S. dollars.
"We are all about the diplomacy, but you have to ask at some point whether it is worth it," said another EU diplomat, who asked not to be named.
The diplomat spoke to Reuters at a U.S. embassy party attended by U.S. Energy Secretary Rick Perry in Brussels in June, where a handful of other European diplomats were sharing gripes about what they saw as Trump's brash, go-it-alone approach on energy.
A senior Trump administration official, speaking on condition of anonymity, said the energy strategy aims at the mutual benefit of the United States and its allies.
"What the U.S. energy sector is doing is unleashing our energy resources and our technologies and sharing them with our partners and allies around the world to help them diversify their energy mix and ensure reliable supply," said the official.
A Department of Energy press release recently called U.S. gas exports to Europe a way to spread "molecules of freedom" across the Atlantic.
The United States has become the world's top oil producer and is on a path to become the world's third largest exporter of natural gas, thanks to a technology-led drilling boom that the Trump administration has sought to boost by slashing environmental regulations.
The United States sent of 43.3 million barrels of crude oil and products to Europe in the six months ended in March, a 27 percent increase from the same period a year earlier, according to the Energy Information Administration. Meanwhile, U.S. liquefied natural gas exports to Europe have nearly tripled since last year, when the European Commission agreed to buy more in a trade meeting with Trump.
"Increasingly, the America First framework translates into advocating for oil and gas sales around the world," said Tim Boersma, a senior research scholar at Columbia University's Center on Global Energy Policy.