A leaked letter has confirmed that production of Tesla's all-electric Semi truck will commence in limited numbers in the second half of 2020.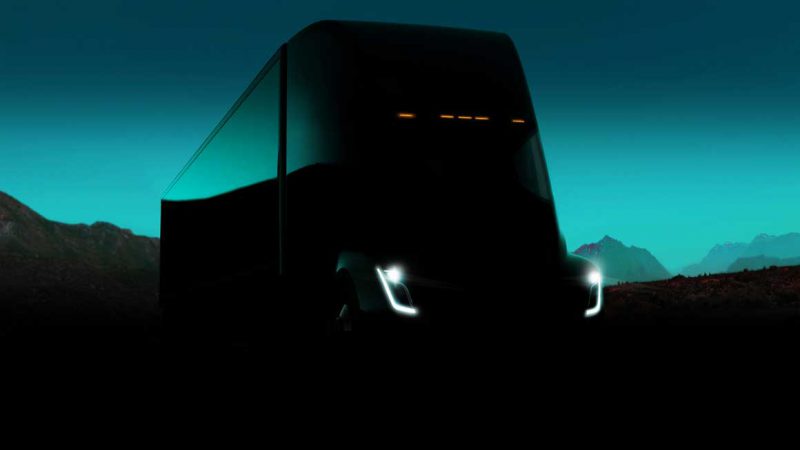 Zero emissions technology for long haul transport has its own challenges, and while some companies are working on hydrogen fuel cell technology to meet the long driving distances needed by the transport industry, Tesla is opting for battery electric.
The Tesla Semi has already attracted reservation orders from the likes of FedEx, US beer maker Anheuser-Busch, retail giant Walmart, and snack food brand Frito Lay.
Originally slated for a late 2019 launch, Tesla's last official comment regarding the Semi release timeline noted that production of the Semi would begin in 2020, but not whether it would be early or late this year.
"We are planning to produce limited volumes of Tesla Semi in 2020," said the note in Tesla's Q3 2019 update.
The new confirmation in the letter to reservation holders, which was apparently originally sent in late 2019, was shared on social media platform Twitter by @jpr007 on Friday and says Tesla is "on track to produce limited volumes of the Tesla Semi in the second half of 2020."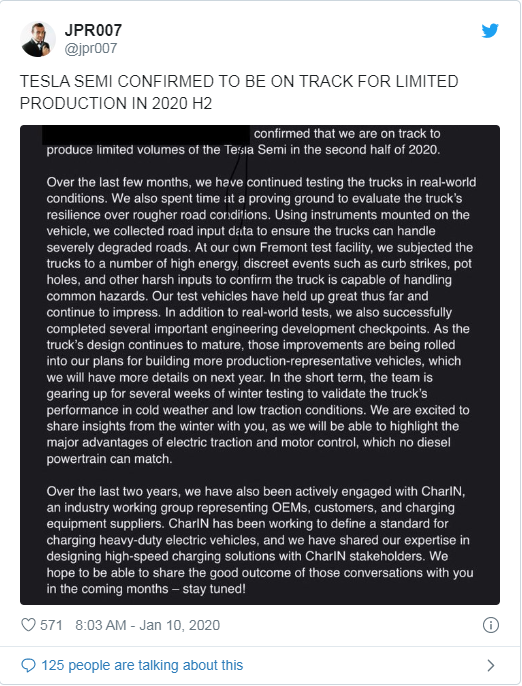 As noted in the email to reservation holders, part of the reason for a delay in launch has been due to testing to ensure the Semi can hold up to real world driving conditions such as striking curbs, pot holes and other common hazards.
Tesla says that with new improvements being rolled into successive prototypes to reach "production-representative" vehicles, the Semi is now undergoing in the 2019-2020 northern hemisphere winter testing in cold weather and low traction conditions.
When Tesla does finally release the Semi, it has the potential to revolutionise the long haul transport industry, have a significant effect on reducing industry-related carbon emissions and offer a better experience for truck drivers than a standard diesel semi.
Superior acceleration thanks to instant torque from its huge battery allows for acceleration from 0-60mph (0-96.5km/hr) in 20 seconds with a 36+ metric tonne payload (compared to one minute in a diesel truck), while regenerative braking recovers 98% of kinetic energy "giving it a basically infinite brake life" according to Tesla's website.
The Californian electric vehicle maker has already put its own prototype models to good use, delivering Model 3 electric sedans to customers in April 2019.