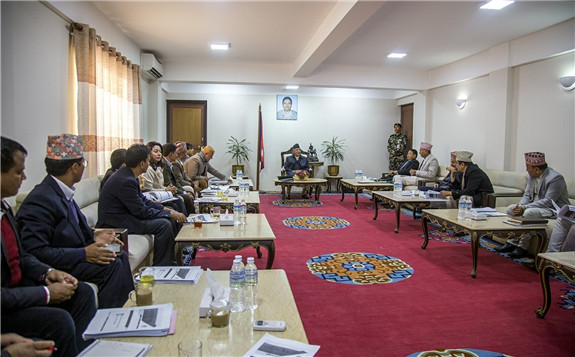 KATHMANDU: Investment Board Nepal (IBN) has approved an investment of Rs. 85 billion for construction of three Hydroelectricity projects, which are, Upper Trishuli-1 hydropower project, Marsyandgdibesi hydroelectric project, and Upper Trishuli-3 'B' hydropower project.
The meeting of IBN, held on the Chairmanship of Prime Minister KP Sharma Oli approved the investment on Sunday.
IBN informed that it had approved Rs. 65 billion for Upper Trishuli-1, Rs. 11 billion for Marsyangdibesi and Rs. 8 billion for Upper Trishuli-3 'B'.
Nepal and Korea will be jointly investing in the construction, which is to be started by Nepal Water and Energy Development Company.
Likewise, Nepal Electricity Authority (NEA) will construct the Upper Trishuli-2 'B' hydel project.
PM Oli in the meeting said that the government was determined to execute a big project without any disturbances.
Oli said that coordination from concerned authorities was important for ensuring effective execution of the projects.
IBN's Chief Executive Officer Maha Prasad Adhikari, Minister for finance and IBN Vice Chairman Yubaraj Khatiwada, Minister for industry, commerce and supplies Lekhraj Bhatta, Minister for energy, water resources and irrigation Barsaman Pun, Minister for environment Sakti Bahadur Basnet and Minister for agriculter and livestock development Ghanashyam Bhusal were present in the meeting.