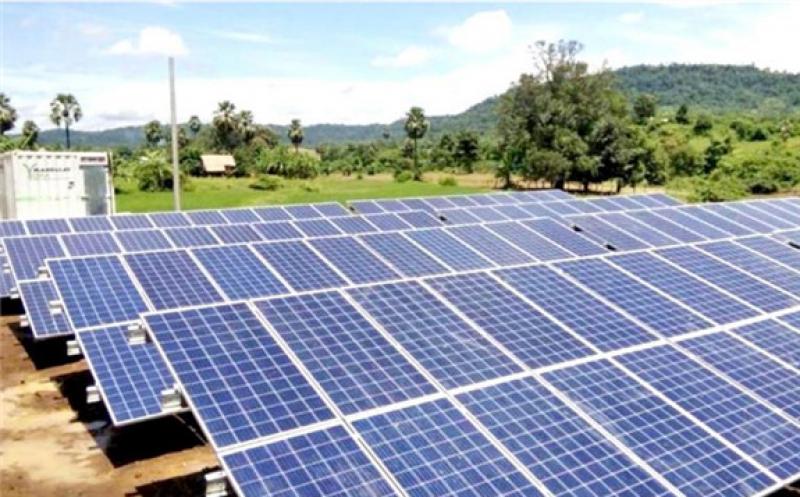 Mandalay Yoma Energy on Tuesday launched Myanmar's biggest solar mini-grid for rural areas in Magway Region on Tuesday.
With the mini-grid, up to 400 households in Magway's Lel Ma village now have access to electricity. Myanmar's electrification rate is one of the lowest in the world at around 50 percent.
Kapil Seth, chief executive officer of Mandalay Yoma Energy, hailed the investment as a landmark in electricity access for remote areas of the country.
"We see tremendous potential as we strive to deliver sustainable energy access to more homes and enhance the quality of our services for end customers," Seth said in a press statement.
Mandalay Yoma Energy is a solar energy joint venture between French ENGIE Group's GDF International SAS and Singapore-based consuntancy Sol Partners Pvt Led.
"This is a significant milestone towards our vision of providing 20 million people around the world with access to sustainable, decentralised energy by 2020," said ENGIE Asia-Pacific CEO Paul Maguire.
Mandalay Yoma Energy says it is looking to develop more solar and hybrid mini-grids to electrify tens of thousands of households across Myanmar's rural areas and work closely with the Department of Rural Development to develop more mini-grid programmes.
The Rural Development Department's mini-grid programmes are part of the World Bank-supported Myanmar National Electrification Plan 2030 that aims to electrify every household in the country by 2030.
The World Bank released a report this year estimating that US$2 billion of annual investments by 2030 are required to reach complete electrification. Myanmar's power needs are growing by 15-17pc per year, according to the Ministry of Electricity and Energy.
Last month, a study by International Finance Corporation (IFC) revealed that there are more than 700 megawatts, 10pc of the country's existing power generating capacity, worth of potential commercial and industrial solar projects in Myanmar.
The Myanmar government raised electricity tariffs in July, making solar panel installations a more attractive proposition because of their cost competitiveness and advantage of being deployed more quickly than other renewable energy sources.
Meanwhile, a 2017 report by Paris-based independent International Energy Agency revealed that decentralised solutions such as mini-grids are the most cost-effective option to deliver electricity to more than 70pc of people who have yet to gain access to electricity.