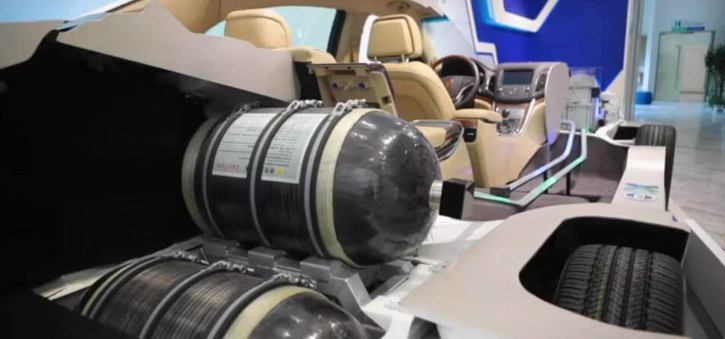 Scientists have created a computer simulation program which allows car manufacturers in China to virtually test hydrogen fuel cell engines instead of building expensive prototypes.
The digital platform has significantly sped up the research and development process and reduced costs for several automotive and fuel cell companies, including FAW (First Automotive Works), SHPT (Shanghai Hydrogen Propulsion Technology) and Sunrise Power.
It uses mathematical formulas to accurately model the physical and chemical interactions inside the engine.
The international project is led by two principal investigators, Professor Jin Xuan, of Loughborough University, and Professor Kui Jiao, of Tianjin University, in northeast China.
Through the collaboration, the fuel cell simulation platform developed by Tianjin University is enhanced by the artificial intelligence and high-precision 3D printing technologies developed by Loughborough University.
The project was recently highly commended at the IChemE Global Awards for Research Projects.
Prof Xuan said, "Low performance and high cost is a huge drawback at the minute and is limiting commercialization – the power output needs to double before this technology can become commercially viable."
"But in order to achieve high-performance fuel cells, we need a much deeper understanding of how they work."
"The simulation platform developed by the project is being used to help optimise these fuel cell engines so that the final fuel cell product will be close to design specs and with maximum performance without expensive in-process modification or trial and error."
"Essentially, we help them to do the product development digitally, on a computer, rather than physically in a workshop, saving a significant amount of money and time."
With the help of the simulation platform, the Chinese car manufacturer Sunrise Power has successfully developed the country's first 5,000-hour fuel cell automotive engine. FAW – another car maker – has successfully released the Hongqi H5 fuel cell car.
Shanghai Automotive (SAIC) also launched the ROEWE 950, the only fuel cell passenger vehicle in China which finished the product homologation, vehicle sales and license registration, equipped with SHPT's PROME P240S fuel cell stack.
Prof Xuan said, "$17bn has been pledged to get the technology up and running over the next four years in China, with a target of one million hydrogen fuel cell vehicles on the road in 10 years."
"I'm proud that our project is paving the way for this vision."