In September 2017, India's Minister of Road Transport and Highways provoked outrage when he told an audience of carmakers that he would require all of India's roughly 250 million vehicles to be electric by 2030.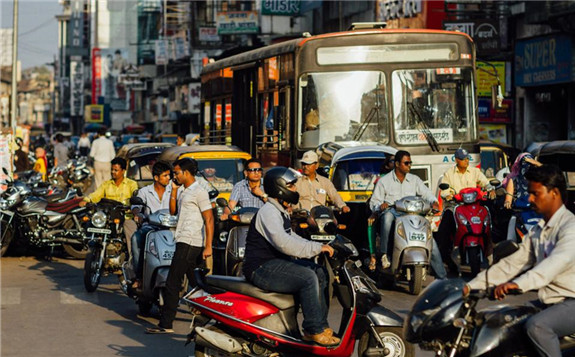 "I am going to do this, whether you like it or not," said Nitin Gadkari. "And I am not going to ask you. I will bulldoze it."
Those words turned out to be hollow. Under fire from critics, the government lowered its target from 100% electric vehicles by 2030 to just 30% in February 2018. But India's ambitions for the future of its electric vehicles market remain immense. And in some sense, the erstwhile 2030 all-electric target is less consequential than one that's coming even sooner: the government is working on plans to require all two-wheelers to be electric by 2026. That's one year later than widely reported elsewhere, and the plan likely would only apply to vehicles with a capacity below 150cc (thus excluding some motorcycles), but detractors are still likely to label it an overly ambitious target.
"We are working in partnership with the private sector to finalise a road map for electrification of 2 Wheelers by 2026," wrote Amitabh Kant in a recent email. Kant is the CEO of the government think tank Niti Aayog, an important planning agency which previously said the transition would need to occur by 2025.
Two-wheelers — from motorcycles to mopeds — may be puny in comparison to more traditional four-wheel passenger vehicles. But they happen to dominate the automobile market in India. Out of some 250 million vehicles registered in India as of 2017, around 190 million were two-wheelers.
Can India's government deliver on its tentative goal to turn all of them, or at least a sizable portion, electric by 2026? The ruling Bharatiya Janata Party (BJP) under Prime Minister Narendra Modi, who was reelected in May with a strong mandate, is adamant that the future of India's auto industry is electric, and it is steadily sweetening incentives to produce and buy electric vehicles. But critics in the industry argue that it is promising the impossible, pointing out that India's domestic electric battery manufacturing base is virtually non-existent. If auto retailers are compelled to boost uptake before the infrastructure is in place, they say, that might only inject more life into China's manufacturing base at the expense of India's.
Yet some say that the plan is feasible.
"I think this is a sensible and achievable strategy," said Peter Wells, a professor at Cardiff Business School's Centre for Automotive Industry Research, pointing to research of his that he said showed how China's two-wheel sector "exploded into life" despite official neglect.
"It is true that there is immense pressure on lithium ion supply chains, but that is not an excuse," he said, referring to a key input, lithium, in the production of many batteries.
A phalanx of startups is similarly optimistic. "Clean air to breathe for all people should definitely take higher priority than economic challenges posed by such shifts," said Prajwal Sabnis, co-founder of Orxa Energies, which is developing electric motorbikes and battery packs. "Our consideration is driven by a lot more than mere economics."
Likewise, the startup Ather Energy, which is building electric scooters, said that it views the government's 2026 two-wheeler goal as "an ambitious but achievable target."
India has much to gain if it is able to make inroads on its electric ambitions. Tailpipe emissions prematurely killed 74,000 people in India in 2015, causing some $20 billion in damages, according to one study earlier this year. Moreover, the diesel and gasoline that powers India's millions of car engines have turned India into a voracious consumer of the world's crude oil. It spent $112 billion on imports of crude oil in 2018–19 alone, around 4% of its GDP.
Wobbly but forward-looking government stance
So far, the authorities seem to have succeeded only in demonstrating that they can change their minds.
First the BJP government backed off from its blanket 2030 all-electric goal. Then it watered down its earlier plan to require all of India's three-wheelers and all of its two-wheelers to be electric by 2023 and 2025 respectively. It first shifted, reportedly, to a phase-wise approach in which the most polluted cities would be targeted first. Now, in the recent email from Kant, Niti Aayog appears to have backed off by one year. (The plan may have evolved subsequently, and it is unclear when an updated plan will be officially unveiled.)
"There is still some confusion on how the government plans to implement [its targets], in light of all the opposition from the traditional manufacturers," said Sabnis, the Orxa co-founder.
Despite the equivocation, there is little doubt about where authorities see the future of the auto sector.
"[We] aim to leapfrog and envision India as a global hub of manufacturing of Electric Vehicles," said Finance Minister Nirmala Sitharaman, unveiling the budget in July.
The government under Modi has steadily carved out a range of incentives for electric vehicle producers, including cutting the Goods and Services tax on electric vehicles from 12% to 5% and cutting the tax on electric chargers and charging stations from 18% to 5%, new measures unfurled in the budget. That followed the approval in February of the equivalent of around $1.4 billion (10,000 crore rupees) in electric vehicle subsidies in a programme called Faster Adoption and Manufacturing of Hybrid and Electric Vehicles, or FAME.
Moreover, there are signs that the large incumbents in the automobile sector are getting on board. The $20 billion Mahindra Group, one of the country's largest automobile manufacturers, has thrown its support behind electric vehicles. And earlier this year two branches of the giant Indian conglomerate Tata Group — Tata Power and Tata Motors — pledged themselves to building 300 rapid charging stations in five major cities around India by the end of the next financial year.
Industry sees roadblocks
On the other hand, others, including traditional manufacturers, fear that the BJP government, by asking the industry to achieve such a rapid turnaround, risks setting fire to a thriving supply chain built around the internal combustion engine.
"An abrupt and sudden changeover will disrupt the entire ecosystem of vendors, OEMs, dealers, spare parts manufacturers, and mechanics, as well as other stakeholders, thereby impacting the livelihoods of millions of people dependent on the industry," Hero MotoCorp, a top Indian two-wheeler manufacturer, told BloombergQuint recently.
"The only way large two-wheeler brands will act on it is if there was a regulatory deadline to achieve electrification," said Deepesh Rathore, the former head of IHS Automotive in India. "Otherwise, no company would like to disrupt a hugely successful, high margin, competitive business to work on a new, relatively unproven technology."
Incumbents are bound to resist change, some observers point out. Companies that have heavily invested in the internal combustion engine supply chain stand to be the biggest losers from the switch to electric vehicles. "'Industry' in a generic sense will always militate against regulation," said Wells, the Cardiff Business School professor.
But there is also a real case for concern. Unlike its rival China, arguably the world's leader in electric vehicle manufacturing, India doesn't have any large-scale electric vehicle or battery facilities. Nor does it have much ownership of the raw natural resources — cobalt and lithium in particular — that are considered crucial inputs in the production of batteries, again unlike China.
Choosing to import its electric vehicles would also pose problems. As part of its Made in India programme to encourage domestic manufacturing, India imposes a duty of 50% on imported two-wheelers. A similar albeit higher duty of 125% on used four-wheel cars makes them a difficult proposition. Tesla CEO Elon Musk recently tweeted, in response to a fan who asked when Tesla's electric cars would be available in India: "I'm told import duties are extremely high…even for electric cars. This would make our cars unaffordable."
If India did end up importing electric vehicles or batteries, it might only end up injecting cash into China's already large and rapidly expanding battery manufacturing sector. According to Bloomberg New Energy Finance, China has three times' the battery plant capacity of even the US, home of the famed Tesla "gigafactory" in the Nevada desert. India has scarcely any.
Out of some 45 or 50 firms selling or planning to sell electric vehicles in the next two years, all of them are importing in whole or in pieces from China, said Rathore. "So is electric mobility actually helping Modi's Make in India plan?"
Of course, India has plans to build up its manufacturing base. In November, Tata Chemicals said it was considering entering the lithium-ion battery sector production, and earlier this year said it had committed 4,000 crore rupees (about $570 million) in the western state of Gujarat, according to press reports. Tata appears to be interested in particular Gujarat's Dholera Special Investment Region, which has evidently been fielding a number of requests from Indian firms interested in electric vehicle and battery manufacturing, and even one foreign company. Of course, some small-scale electric vehicle manufacturing already happens in India. "We build batteries and a whole host of control systems and design our own vehicles, almost entirely in India," said Sabin, the Orxa co-founder.
And in the budget speech at the beginning of July, India's finance minister, Nirmala Sitharaman, eliminated import duties on capital goods used to make lithium ion cells, an important component of electric vehicle batteries. (Just a few months earlier, India said it would increase the duties on lithium ion cells from April 2021 and other electric vehicle parts from April 2020, part of efforts to increase domestic electric vehicle manufacturing.)