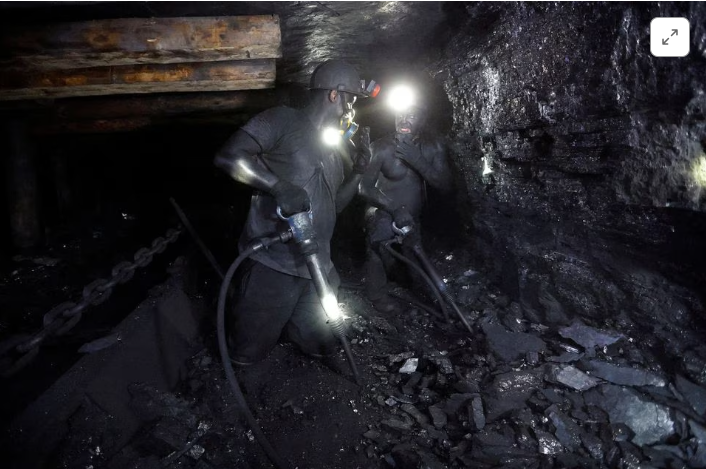 Miners work inside the Lutugin coal mine in Chystiakove (Torez) in the Donetsk Region, Russian-controlled Ukraine, August 9, 2023. REUTERS/Alexander Ermochenko Acquire Licensing Rights
At least $14.3 million worth of coal produced in areas of Ukraine annexed by Russia has been exported to NATO member Turkey this year, according to Russian customs data reviewed by Reuters.
Between February and July 2023, about 160,400 tonnes of coal from the annexed eastern Ukrainian regions of Donetsk and Luhansk arrived in Turkey, the data showed. Three producers listed in the customs data confirmed to Reuters they had shipped coal from the two regions to Turkey during that period.
Unlike the United States and European Union, Turkey has not restricted trade with Russia or the areas of Ukraine controlled by Moscow. Washington has cautioned companies not to help Russia wage war against Ukraine or circumvent sanctions.
Since Moscow launched its invasion in February 2022, Turkey - a member of NATO that supports Kyiv's efforts to repel Russia - has said repeatedly that it recognises Ukraine's territorial integrity. Ankara played a key role in mediating a now-lapsed deal between the warring countries that allowed Ukrainian grain exports via the Black Sea.
Turkey's trade ministry and customs directorate did not respond to requests for comment on the shipments.
The data from a commercial trade data provider, reviewed by Reuters, showed that coal from at least 10 producers went to Turkey between February and July. Turkey was comfortably the biggest export destination of coal from the annexed regions, the figures showed, accounting for 95% of shipments during the period.
Turkey, a major coal consumer and importer, is bucking the global trend by increasing coal's share in electricity generation. It produced 31.5 million megawatt hours (MWh) of electricity from imported coal in the first half of this year, up by a quarter from the same period of 2022, official data shows.
The coal sellers are registered in Russia and in annexed Ukrainian territories, according to Interfax news agency's Spark database of Russian companies.
The buyers were companies registered in Hong Kong, the UAE and offshore jurisdictions including Belize and the British Virgin Islands, the customs data showed. There were no Turkish companies listed.
Reuters has not been able to find contacts for the buyers nor establish who the final beneficiaries were.
In November, Vitaliy Khotsenko, the then-head of the so-called Donetsk People's Republic (DNR), said that the region was already exporting coal to Turkey, from where it went to markets in the Middle East and Africa.
Reuters was unable to find any information in customs data about deliveries of coal produced in the DNR to Turkey or other countries in 2022.
The Russian-installed authorities in Donetsk and Luhansk regions, as well as the Ukrainian government, did not comment on the coal exports.
Russia's Ministry of Energy did not respond to a request for comment. Russia's Federal Customs Service said in response to Reuters' questions that it had suspended publication of foreign trade statistics since February 2022.
While the commercial trade data does not give a complete picture of how the coal was exported, it showed that some went via the southern Russian port city of Rostov and some through the Black Sea port of Novorossiisk, which both have rail connections to Donetsk and Luhansk. Reuters was unable to determine whether some or all of it was re-exported from Turkey.
U.S. sanctions imposed on Feb. 21, 2022, three days before Russia invaded Ukraine, prohibit U.S. imports from or exports to the so-called Donetsk and Luhansk People's Republics (LNR). Two days later, the European Union announced measures including an import ban on goods from the two regions.
Turkey does not have the same restrictions. The United States has imposed sanctions on companies, including from Turkey, that it says are supporting Moscow in its war against Ukraine.
"We are aware of reports of trade like this, but we can't comment on your specific findings," said a spokesperson for the U.S. State Department, when asked about the shipments to Turkey.
"We abhor any attempts by Russia to profit from the theft of Ukraine's natural resources. Ukraine's natural resources belong to the people of Ukraine."
The European Commission declined to comment. In April, Reuters reported that a Chinese company bought copper from a plant in a Russian-annexed region of Ukraine.
'COMMERCIAL SECRET'
Russia announced the annexation of the whole of Donetsk and Luhansk regions in eastern Ukraine in September 2022, although it only controls some of the territory amid ongoing fighting.
Ukraine, its Western allies and the vast majority of countries at the UN General Assembly, including Turkey, condemned the declared annexation as illegal.
Reuters tried to reach for comment the 10 miners and related companies exporting coal from the two annexed regions. It was able to make contact with four; the others did not respond.
Vostokugol, based in Luhansk and owned by the Russian-installed LNR authorities, is one of the largest coal mining companies in the annexed territories and accounted for 100,000 tonnes of the February-July volumes to Turkey, customs data showed.
Adzhmal Zalmai, a senior official at Florance LLC - a trading company registered in Moscow and the exclusive seller for Vostokugol - hung up when Reuters asked him about shipments to Turkey. Vostokugol did not respond to a request for comment.
Anton Nadeyev, director of private mining company Nedra-06, which operates in Antratsyt, a town near Luhansk city controlled by pro-Russian proxies since 2014, confirmed shipments to Turkey.
Nadeyev declined to provide further details of the transactions or information about the buyers.
"This is already our commercial secret. I'm not ready to voice it," Nadeyev said.
Customs data shows Nedra-06 made two shipments of coal to Turkey totalling 1,600 tonnes in May and June. The buyers were Belize-based Brig Management LTD and Green Rabbit LTD of Hong Kong, the customs data showed.
Customs records show the two companies were the biggest buyers of coal from annexed Ukrainian territory during the period under review.
From February to July, Brig Management LTD shipped 49,000 tonnes of coal mined in the annexed territories of Ukraine to Turkey worth $4.8 million, according to the customs data.
Over the same period, Green Rabbit LTD shipped 11,800 tonnes of coal worth $1.1 million.
Reuters was unable to find contact information for Brig Management LTD. A request made to the Belize Companies and Corporate Affairs Registry was denied because "information can only be requested by a Licensed Registered Agent or owners of the company."
Reuters visited the address listed in the Hong Kong registry for Green Rabbit Ltd - a commercial building home to several businesses - but was unable to see any mention of the company at the premises.
A coal producer in Russian-controlled Donetsk, businessman Denis Karashchuk, based in the mining town of Yasynuvata, also confirmed that some of his company's output had been shipped to Turkey.
He said that he did not ship the coal there himself. Coal bought at Russian ports by Brig Management LTD and Green Rabbit LTD was taken to Turkey, the data showed.
"Coal is bought in the port of Novorossiisk," Karashchuk said, referring to the Russian Black Sea port that is a major transport hub for oil and other commodities.
"And what happens next is, let's say, already their (the buyers') business."