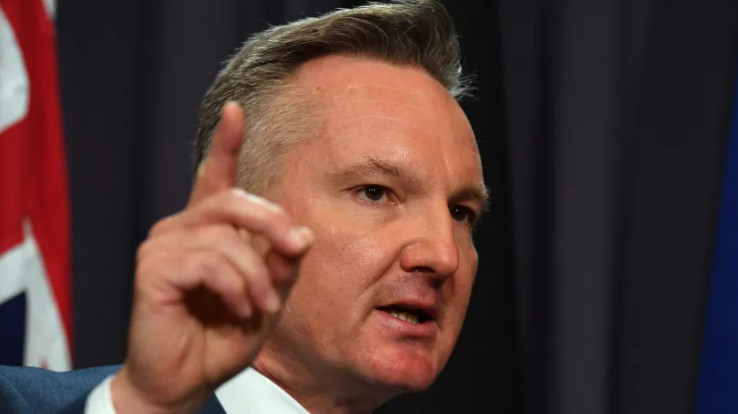 Minister for Climate Change and Energy Chris Bowen. (AAP Image/Mick Tsikas)
New modelling shows using nuclear energy to replace Australia's ageing coal-fired power plants would cost $387 billion.
Energy Minister Chris Bowen has seized on the analysis from his department to attack the opposition, which says nuclear energy should become an important part of Australia's energy mix in the transition to net-zero emissions.
The analysis says the retiring coal fleet would need a minimum of 71 small modular reactors.
Mr Bowen says switching to nuclear "flies in the face of economics and reason", with the method of power generation being three times more expensive than firmed renewables.
He said the small modular technology was largely untested and that he "can't think of a worse fit for Australia than nuclear power".
"There are two small modular reactors in the world being in Russia and China, neither of them is operating commercially," he told ABC radio on Monday.
The capital costs of small modular nuclear reactors would be $18,167 per kilowatt compared with $1058 for variable large-scale solar and $1989 for variable onshore wind.
The cost per megawatt-hour is set at $198-$349 for nuclear, $35-$58 for large-scale solar and $44-$75 for variable onshore wind.
But Liberal frontbencher Dan Tehan said Bill Gates supported the opposition's argument, saying nuclear was the only way to get to net-zero and pledged to press ahead with their policy.
"We have to do it here in Australia as well, the Labor Party are happy to do it when it comes to submarines," he told Sky News.
"Chris Bowen is trying to use every underhanded way, using bodgy figures to try and put the Australian people off having nuclear as part of our energy mix."
Mr Bowen said the transition to renewables more broadly was going well but could be better.
"We have a very substantial pipeline of investment that the private sector is planning but I want to see more of that," he said.
He added that the federal government wouldn't be stepping in to keep the NSW Eraring coal-fired power plant open, saying he agreed with the state minister's comments that "she doesn't want to see Eraring stay open a day longer than it needs to or close a day earlier than it has to".
He said there had been no proposals for the federal government to contribute to the plan.