GE Vernova's Gas Power has signed a memorandum of understanding with several partners to carry out a feasibility study to develop a carbon capture value chain to decarbonise gas power plants in Indonesia.
GE Vernova will be joined by Korea's CARBONCO, BP Berau (bp), the Operator of Tangguh; PLN Nusantara), a subsidiary of Indonesia's national utility PLN; and Jawa 1, owner of PLTGU Jawa 1 power station.
The partners will undertake a study to deepen understanding of the development of a CCUS value chain with Indonesia as the hub for the region.
The partners are ultimately looking to develop the entire CCUS value chain, from implementation at gas plants to the transportation of CO2 to import and export terminals, as well as the sequestration of captured CO2 at the Tangguh field in Teluk Bintuni, Papua Barat, Indonesia.
The collaboration builds on a prior agreement between GE and CARBONCO made in October 2022 which sought to integrate carbon capture technology with natural gas combined cycle plants in Asia and Oceania.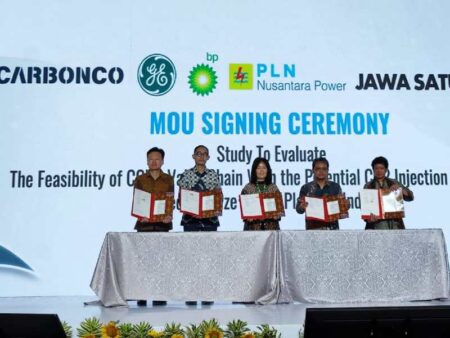 Both parties have since identified economically viable and feasible opportunities that can be advanced through this new MoU.
Combined with CARBONCO's technological capabilities, GE Vernova will integrate combined cycle power plants with CARBONCO's CCUS technology with the goal of ensuring dispatchability, lower carbon intensity, high flexibility and reliability, and lower capital cost.
Ramesh Singaram, Asia President & CEO of GE Vernova's Gas Power business, commented: "We are especially focused on further developing crucial breakthrough energy technologies such as carbon capture, and are pleased that this collaboration will pave the way for a robust value chain that will help address carbon emissions reduction in the power sector and support climate change commitments in Indonesia."
Tangguh CCUS project
One of the projects that will form an important part of the study is the Tangguh CCUS project carried out by bp.
It received approval from the Government of Indonesia in 2021 and holds a ca 1.8 GtCO2 in ultimate storage capacity.
According to bp, Tangguh is well-positioned to become the country's first CCS hub for domestic and international emitters. For the initial phase at Tangguh, bp plans to inject over 30 million tons of CO2 back into the reservoir to help recover additional gas production through Enhanced Gas Recovery (EGR).
This, claims bp, will be the first large scale CCUS project with EGR in the world.
Carbon capture in Indonesia
Indonesia has set a goal of reducing its greenhouse gas emissions by 31.89% by 2030 and to this end has recently launched various policies to decarbonise its economy.
On 3 March 2023, the Indonesian Ministry of Energy and Mineral Resources enacted the Regulation on the Implementation of CCS and CCUS in Upstream Oil and Gas Business Activities.
The Regulation requires that carbon emissions be captured from upstream oil and gas business activities via CCS or CCUS. Also, CO2 from the atmosphere and carbon derived from other industrial activities can be used for CCUS activities.
According to Upstream Energy, Indonesia has 16 carbon capture and storage (CCS) or carbon capture, utilisation and storage (CCUS) targeted to come into operation before 2030.
Most of the country's carbon capture projects are in the study and feasibility stages.
Listen to this episode of the Energy Transitions Podcast to learn more about carbon capture utilisation and storage with exclusive insights from Ruth Herbert, CEO of CCSA