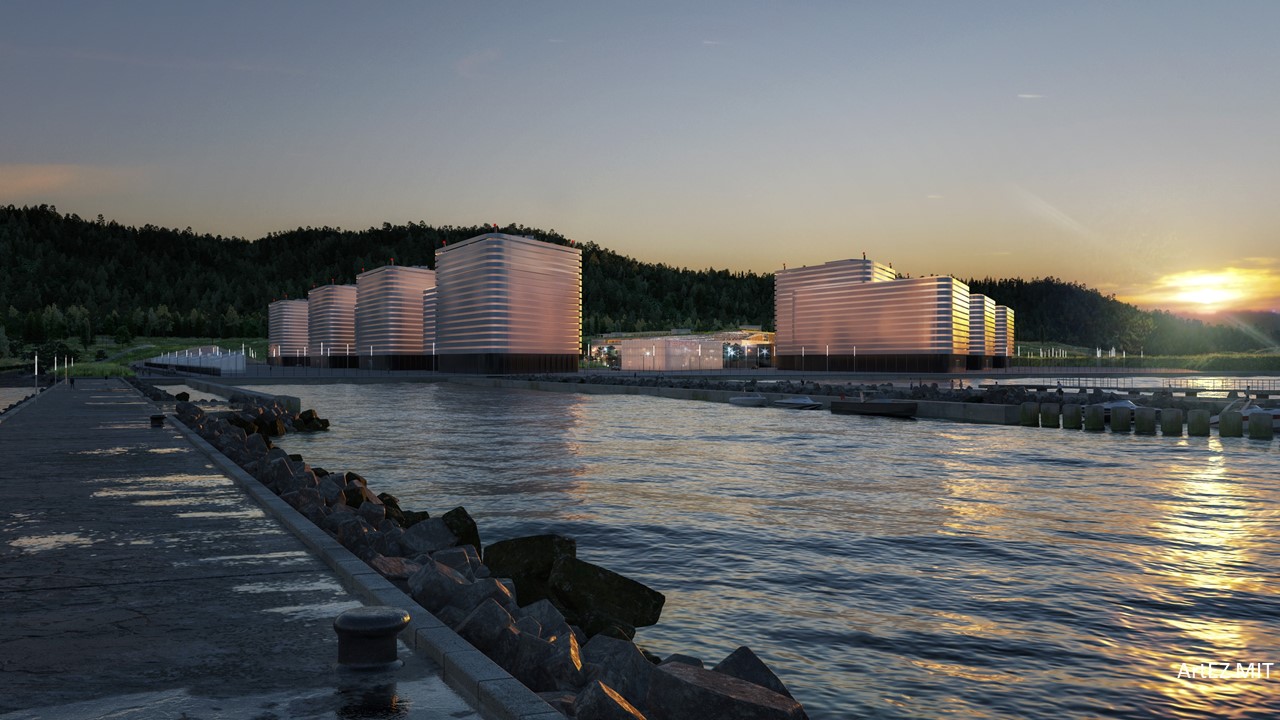 SMR Campus concept visuals - sea view Source: Instance/MIT
Anglo-Dutch practice Instance Architects is drawing up plans for Europe's first Small Modular Reactor (SMR) campus
The nuclear power plant is planned for the small town of Nyköping, on Sweden's east coast, on behalf of energy development company Kärnfull Next.
SMRs are advanced nuclear reactors with a power capacity of up to 300 MW(e) per unit, about a third of the generating power of a normal nuclear power reactor.
They are physically a fraction of the size, but can produce a large amount of low-carbon energy, according to the International Atomic Energy Agency.
Instance, which has offices in Amsterdam and London, is an experienced designer of Gigawatt and SMR nuclear facilities, data centres and smart campuses.
It says the Nyköping facility, which is scheduled for completion in 2030, 'has the potential to become a significant climate-focused employer' for the town and neighbouring areas.
The architect said it hoped 'key decisions' on financing, permission and power purchase agreements (PPAs) for Nyköping would be made by Kärnfull Next and nuclear analysis software provider Studsvik AB in the second half of 2024, 'provided the technical studies continue to show promise and the project gains local acceptance'.
Instance is also collaborating with power company GE Hitachi on a series of SMR plants for North America, Europe and Asia, to be deployed as soon as 2028.
The practice's director Ian Macdonald said: 'The Studsvik SMR Campus as envisaged will be a game changer, demonstrating how the Data Center - Nuclear Nexus solves the issue of growing computing electrical demand with a resilient decarbonised supply.
'As we are undertaking studies during 2023 not all aspects/consultants are known or appointed.'
Kärnfull Next founder and chief executive Christian Sjölander said the new SMR park would 'create future-proof jobs and opportunities for co-location with other high-tech industries'.
The designers and developers say not all aspects and consultants on the project are currently firmed up, and they will continue to undertake studies throughout 2023.