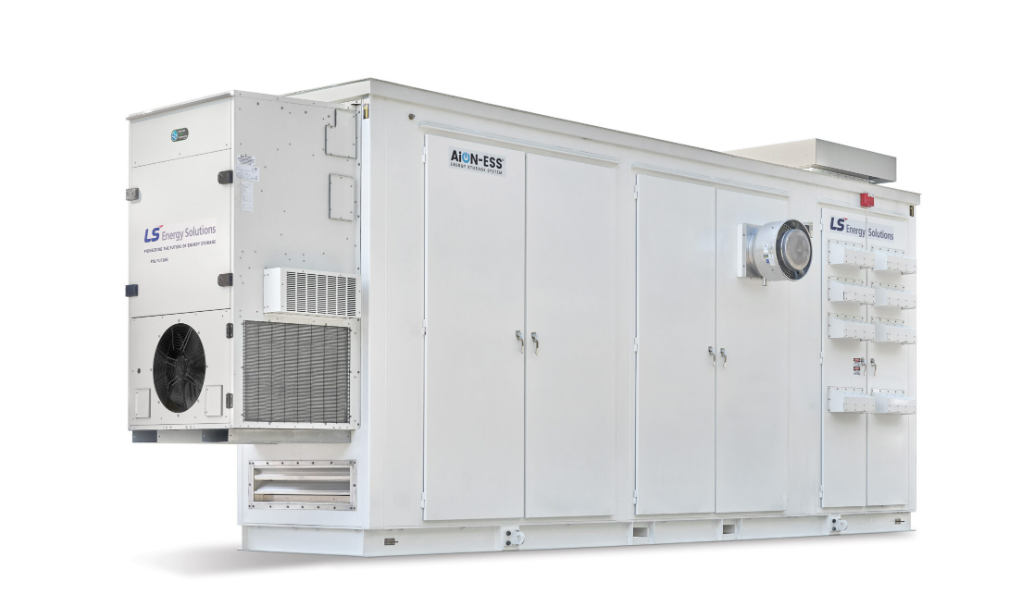 (LS Energy Solutions' AiON-ESS integrated system is a flexible, modular AC energy storage solution for 1-hour and 2- to 6-hour applications. Source: LS Energy Solutions.)
LS Energy Solutions and Gore Street Energy Storage Fund are partnering to deploy a 200 MW/400 MWh energy storage project in California.
The Big Rock project, to be located in Imperial County in Southern California, will provide resource adequacy and ancillary services to the CAISO market.
Big Rock will use 137 AiON-ESS units, each with a power rating of 1.5 MW and the ability to store 3.5 MWh. Along with tier-1 lithium-ion batteries, the 137 containers include over 1,300 modular 140 kVA AiON-SIS string inverters.
The AiON-ESS containers can store energy for a two-hour duration. DC and AC components will be integrated inside each container and provide AC output ready to be fed into medium voltage transformers.
Big Rock will be operated at 100 MW to supply 400 MWh and meet the four-hour discharge needs of an RA contract.
The site will be one of the largest energy storage projects in Imperial County and joins over 5.6 GW of energy storage serving CAISO, California's grid operator.
LS Energy Solutions is a provider of grid-connected energy storage solutions. The Charlotte, North Carolina based company said this project will be its largest installation yet.
In addition to supplying AiON-ESS containers, the company expects to provide commissioning support and operational services at Big Rock, including extended warranty, preventative maintenance, capacity maintenance and system remote monitoring for the life of the project.
UK developer Gore Street Energy Storage Fund acquired the Big Rock site in February 2023 from Avantus, which will continue to provide administrative and development services for the installation. Gore Street Energy Storage Fund already has energy storage investments in Texas, Ireland, Great Britain and Germany.
Construction at Big Rock will begin soon, with the project expected to come online in the second half of 2024.