Germany will invest more than EUR1 billion (USD1.1 billion) in fusion research over the next five years, Federal Research Minister Bettina Stark-Watzinger announced.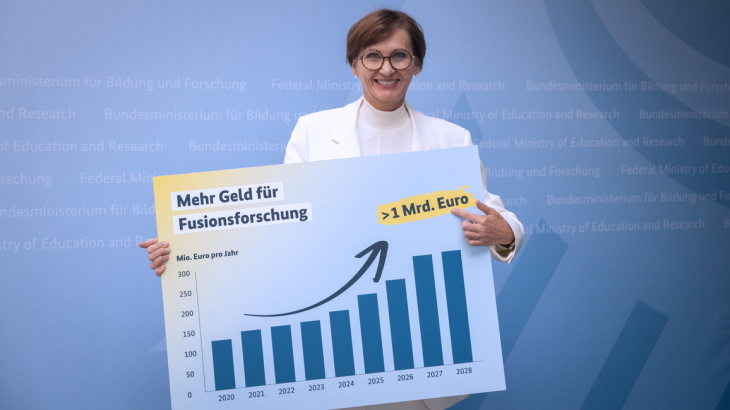 Federal Research Minister Bettina Stark-Watzinger (Image: BMBF/Hans-Joachim Rickel)
The minister announced that she would significantly increase research funding for fusion with an additional EUR370 million over the next five years. Together with funds already earmarked for research institutions, the Federal Ministry of Education and Research (BMBF) will provide more than one billion euros for fusion research by 2028.
The new funding programme strengthens the ongoing activities of the BMBF at the Institute for Plasma Physics (IPP), the Karlsruhe Institute of Technology (KIT) and the Research Center Jülich (FZJ).
In December 2022, BMBF set up a commission of experts to take stock of the field of laser fusion, which has so far been little researched in Germany. In May this year, Stark-Watzinger accepted a memorandum from the commission. The memorandum describes the potential of Germany as an industrial and research location with a view to laser fusion and defines needs for further research on the way to a first fusion power plant.
Building on this, the BMBF published a position paper on fusion research in June. This describes the framework conditions with which a fusion power plant becomes reality as quickly as possible. It is the basis for the new funding programme.
"The energy crisis has shown us how essential a clean, reliable and affordable energy supply is," Stark-Watzinger said. "Fusion is the huge opportunity to solve all of our energy problems. With our new funding programme, we want to invest massively and in a technology-neutral way in fusion - a total of over one billion euros in the next five years. And create a fusion ecosystem with industry so that a fusion power plant in Germany becomes a reality as quickly as possible."
Magnetic and laser fusion are equally promoted under the research programme. Industry and research institutions will be expected to work together to address the technological challenges so that a fusion power plant can be realised.
Among other things, cooperation with the private sector is planned to develop infrastructure for laser-driven fusion. For this purpose, the BMBF will establish the Pulsed Light Technologies GmbH subsidiary through the Federal Agency for Disruptive Innovation SPRIND, through which up to EUR90 million will be invested over the next five years.
In August 2011, the 13th amendment of the Nuclear Power Act came into effect, which underlined the political will to phase out fission nuclear power in Germany. As a result, eight units were closed down immediately: Biblis A and B, Brunsbüttel, Isar 1, Krümmel, Neckarwestheim 1, Phillipsburg 1 and Unterweser. The Brokdorf, Grohnde and Gundremmingen C plants were permanently shut down at the end of December 2021. The country's final three units - Emsland, Isar 2 and Neckarwestheim 2 - shut down in April this year.