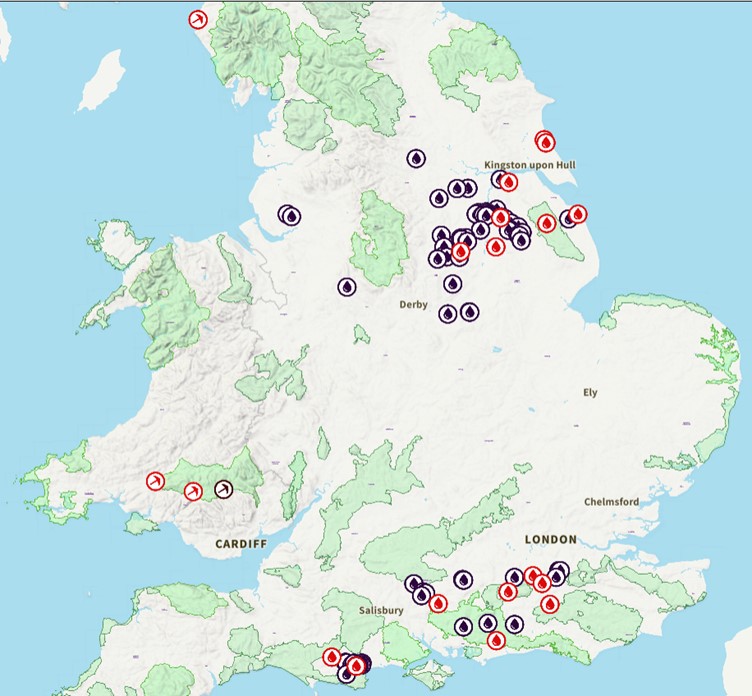 Extract from Friends of the Earth's interactive map published today

New onshore oil and gas developments are planned at 16 sites in England, a new map reveals, as leading scientists insist additional fossil fuel developments are incompatible with fighting climate change.
A new interactive map, published today by Friends of the Earth, comes as the government prepares to grant 100 new licences in the North Sea.
The map identifies:
Two new oil and gas sites at Dunsfold/Loxley in Surrey and Glentworth in Lincolnshire
Seven active oil and gas sites where new activity is planned
Seven currently inactive oil and gas sites where new activity is planned
It also includes proposed coal mines, including the controversial plans at Whitehaven in Cumbria.
Friends of the Earth says the full climate impact of new fossil fuel projects is often ignored.
Details
Data on onshore oil and gas sites used in the map is based on reports by DrillOrDrop. Keep up-to-date on new proposals through our planning page.
At active onshore oil and gas sites, several schemes involve drilling new wells. These include Saltfleetby and Whisby in Lincolnshire, Horse Hill in Surrey, and Wytch Farm in Dorset. The Wressle site in North Lincolnshire is also looking to drill further wells. At Lidsey in West Sussex, permission has been granted for 10 years of oil production and at Brockham in Surrey, there is consent for 15 more years of extraction.
At the currently inactive onshore sites, new wells are planned at West Newton A and B in East Yorkshire, Biscathorpe in Lincolnshire and Rufford Hills Farm in Nottinghamshire.
Two inactive sites, at Waddock Cross in Dorset and Avington in Hampshire, involve extended permissions, bringing suspended wells back into use or new boreholes. Another, at Balcombe, in West Sussex, seeks consent for an extended well test.
Of the sites identified by Friends of the Earth, nine have received planning permission. These are at Avington, Brockham, Glentworth, Lidsey, Rufford, West Newton A and B, Whisby and Wytch Farm.
A further four are subject to legal or planning challenges: Balcombe, Biscathorpe, Dunsfold/Loxley and Horse Hill.
Two more – Saltfleetby and Wressle – have yet to submit new planning applications.
A decision is awaited on the application for Waddock Cross.
Friends of the Earth says analysis of the latest data from the regulator, the North Sea Transition Authority, found there were 92 onshore oil and gas sites in England with at least one operating well.
The organisation said:
"Astonishingly, despite the deepening climate crisis and the UK's commitment to net zero, the full climate impacts of proposed new or extended fossil fuel projects are not routinely considered when planning permission is sought.
"Instead, planning authorities frequently just consider the climate impact caused by the process of getting the fossil fuels out of the ground – and not the emissions that are created when the gas, oil or coal is eventually – and inevitably – burnt. Yet that is when the vast majority of the emissions are produced."
Climate impact
The failure to account for emissions from burning oil and gas, known as downstream or scope 3 emissions, is at the centre of a landmark legal challenge being considered by the Supreme Court.
The campaigner, Sarah Finch, argued in court in June 2023 that Surrey County Council acted unlawfully when it granted planning permission for oil production at Horse Hill without taking account of downstream emissions.
A decision in the case is expected later this year. If Ms Finch wins her case, it could have major implications for new oil and gas developments onshore and offshore, as well as a new coal mine in Cumbria.
Ms Finch said today:
"The biggest climate impact from gas, coal and oil production occurs when the fuel is eventually burned. It's outrageous that this is ignored when decisions are made over whether to allow new and expanded fossil fuel projects.
"That's what my appeal over oil production at Horse Hill is about – and I hope the Supreme Court will confirm that no fossil fuel production – on or offshore – should be allowed without consideration of its full climate impact."  
Friends of the Earth intervened in the case, in support of Ms Finch. Its campaigner, Danny Gross, said today:
"We know that Rishi Sunak wants to 'max out' oil and gas extraction from the North Sea, but there are numerous onshore fossil fuel projects in the pipeline too. The UK is pursuing a dangerous addiction to dirty energy that's incompatible with our national and global climate goals.
"The impacts of the climate crisis are gathering pace with unprecedented heat waves, and other extreme weather events already battering the planet.
"With scientists warning that fossil fuel investments must be avoided if we're to tackle climate breakdown, we must pull the plug on new fossil fuel developments and instead focus on homegrown renewables and energy efficiency. This would boost our economy, create new jobs and lower energy bills."