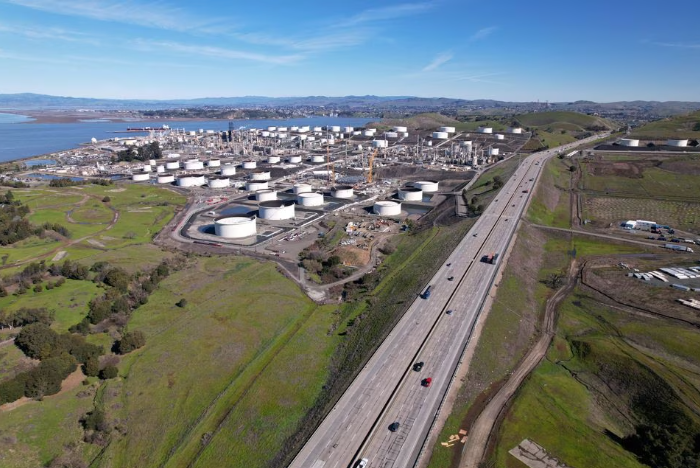 A general view of the Phillips 66 refinery, Rodeo, California, U.S. March 2, 2023. REUTERS/Nathan Frandino/File Photo Acquire Licensing Rights
U.S. crude oil production increased again in June and is nearing the record high set before the pandemic, but the pace of growth is slowing as the industry responds to the fall in prices since the middle of 2022.
Total crude and condensates production rose to 12.8 million barrels per day (bpd) in June, up from 12.6 million bpd in May, and is rapidly approaching the record 13.0 million bpd set in November 2019.
Output from the Lower 48 states excluding federal waters in the Gulf of Mexico increased to a record 10.6 million bpd, according to the U.S. Energy Information Administration ("Petroleum supply monthly", Aug. 31).
Lower 48 production had increased by 0.9 million b/d (almost 10%) compared with a year earlier, but growth has slowed, with output rising by just 0.1 million b/d (an annualised rate of just 4%) in the most recent three months.
Production is still rising in a delayed response to the period of high prices during the second and third quarters of 2022 following Russia's invasion of Ukraine, and the U.S. and EU sanctions imposed in response.
Since then, however, inflation-adjusted prices have fallen by 35-40% and reverted to pre-invasion levels, removing much of the stimulus to raise production.
Based on the historical record, after prices peak it takes on average 5 months for drilling to turn down and 12 months for production to decline.
After prices peaked in June 2022, the number of rigs drilling for oil peaked in December 2022 and had fallen 16% by August 2023, according to field services company Baker Hughes.
Following the drilling peak, Lower 48 output is likely to peak in the third quarter of 2023, as exploration and production firms work their way through the inventory of drilled but uncompleted oil wells.
Flat or falling Lower 48 production will contribute to a tightening global oil market during the final four months of 2023, especially since Saudi Arabia and Russia are set to maintain their own production cuts.
But prices have already started to increase in response to the Saudi and Russian cuts, easing some of the pressure on U.S. producers.
Extra cuts announced by Saudi Arabia and its OPEC+ partners have thrown a lifeline to U.S. shale firms, ensuring any downturn in U.S. output is shorter and shallower than it would have been otherwise.
Chartbook: U.S. oil and gas production
On the gas side, dry production amounted to 3,082 billion cubic feet in June, an increase of 4% compared with the same month a year earlier ("Natural gas monthly", EIA, Aug. 31).
But there has not been much growth since the end of last year, consistent with the slump in prices and the slowdown in drilling since the fourth quarter of 2022.
Inflation-adjusted gas futures prices were down by 75% in April 2023 from their peak in August 2022 and although they have since rallied a little they were still down by more than 70% in August 2023.
In real terms, the average gas price in April 2023 was in the 2nd percentile for all months since the start of the century, and still in only the 7th percentile in August 2023, down from the 78th percentile in August 2022.
The number of rigs drilling for gas fell to an average of 121 in August 2023 down from a peak of 159 in April 2023 as the industry belatedly responded to the slump in prices.
Slower growth in production has combined with strong consumption by power producers as a result of the prolonged heatwave this summer and LNG exports to start eroding surplus gas inventories.
Working gas inventories in underground storage were still 132 billion cubic feet (4% or 0.44 standard deviations) above the prior ten-year seasonal average on Aug. 25.
But the surplus has more than halved from 299 billion cubic feet (+12% or +0.81 standard deviations) on June 30.
Like oil, though perhaps a few months later, gas production is likely to peak and turn lower before the end of 2023 as low prices and the slowdown in drilling filter through.