All the nuclear fuel at the shut down Mühleberg nuclear power plant has now been transported to the Zwilag interim storage facility in Würenlingen, Swiss utility BKW announced. The removal of the fuel marks the completion of the first of three stages of decommissioning of the plant.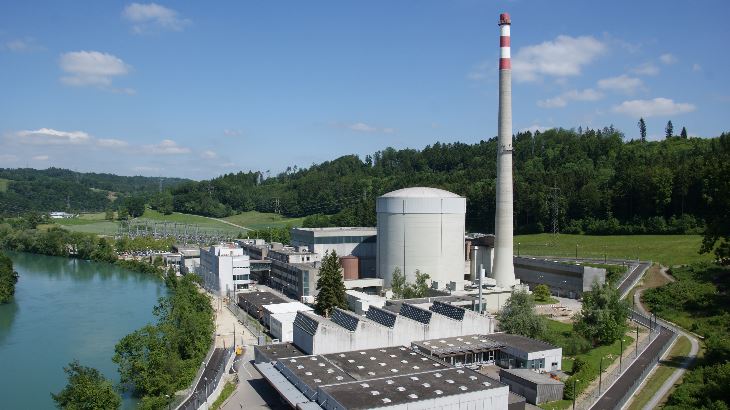 Mühleberg (Image: ENSI)
The plant - comprising a single 373 MWe boiling water reactor - began operations in 1972 and was shut down on 20 December 2019. Dismantling operations began on 6 January 2020. However, it has only been considered permanently out of service since 15 September 2020 when its operating licence was replaced by a decommissioning order. Mühleberg is the first nuclear power plant in Switzerland to be decommissioned.
Mühleberg is being dismantled in three decommissioning phases. The first phase lasts until all the plant's fuel assemblies have been removed. The second phase ends with the lifting or clearing of controlled zones, while the third phase includes work to demonstrate that the system is no longer a source of radiological hazard.
There were 418 fuel elements in the plant when it ceased operation. These were cooled in Mühleberg's fuel storage pool until they were ready for transportation. In April 2022, the first used fuel elements were sent to the interim storage facility in Würenlingen, with multiple transport campaigns following. A total of 66 shipments were required to move all of the fuel.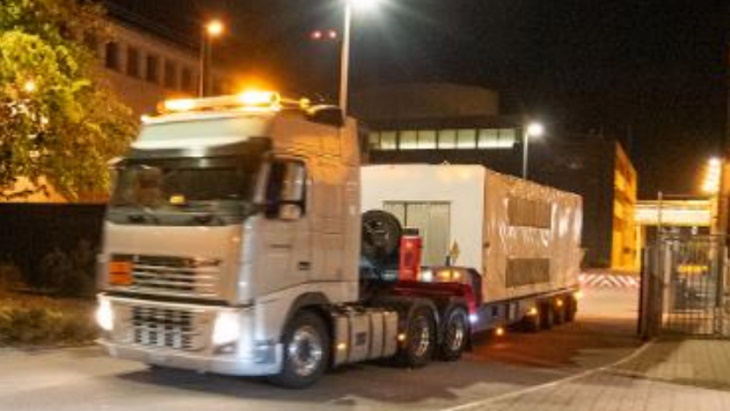 A shipment of used fuel leaves the Mühleberg plant en route to Zwilag (Image: BKW)
"With prompt planning and the extensive consolidated experience of the employees involved, all transport runs went off without a hitch," said Stefan Klute, Head of Nuclear at BKW.
The company noted the milestone of removing all the plant's fuel was reached 16 months ahead of the original scheduled date, set in 2015.
"With the removal of the last fuel elements, the level of radioactivity in KKM has been reduced by over 99%," BKW said. "The early removal of nuclear fuels has a positive impact on the remaining processes in the decommissioning. Regulatory requirements for the cooling of fuel elements and monitoring of reactivity no longer apply. Other systems can be decommissioned, and some processes will be much simpler without nuclear fuels."
BKW submitted its application to the Swiss Federal Nuclear Safety Inspectorate (ENSI) in late June 2022 for the second decommissioning phase of Mühleberg.
During that phase, all remaining plant components that have come into contact with radioactivity will be dismantled, treated and cleaned. These include, for example, the reactor pressure vessel, parts of the containment or the fuel element storage pool that is no longer required.
By the end of 2030, Mühleberg will be free of radioactive material, with conventional dismantling set to begin in 2031. BKW plans to submit an application for conventional dismantling to the authorities by 2027.
The site is expected to be available for other uses from 2034 onwards.