Nuvera Fuel Cells, LLC, a provider of fuel cell power solutions for motive applications, is powering the hydrogen fuel cell reachstacker that Hyster has developed and shipped to the Port of Valencia in Spain. The reachstacker is part of the H2Ports project, which aims to introduce hydrogen-powered vehicles and equipment in port operations.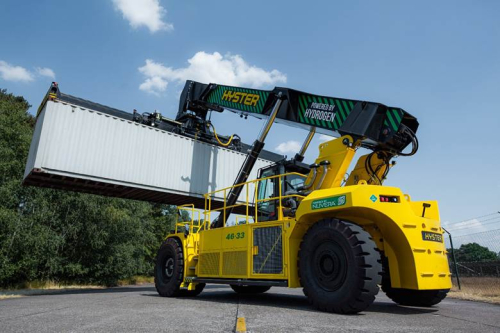 The Hyster Reachstacker uses Nuvera E-Series Fuel Cell engines to convert hydrogen into electricity. The hydrogen is stored in high-pressure tanks and can be refilled less than 15 minutes. The hydrogen fuel cell charges the batteries, which power the electric motors and hydraulic systems, enabling the reachstacker to lift laden containers with comparable performance to a diesel alternative.
The Hyster Reachstacker will be tested and validated in live operation at the MSC terminal in Valencia, one of the largest container terminals in Europe.
Container handling and other diesel equipment used around the clock at shipping ports are a source of significant local air pollution and greenhouse gases, compounded by emissions from heavy-duty trucks that travel within and beyond port boundaries and from vessels approaching from the sea or used in the harbor.
Nuvera E-Series Fuel Cell Engines can meet many power needs within port ecosystems, including motive and stationary applications. Nuvera is working with Hyster-Yale Group to deliver high-performance alternatives to diesel port equipment.
The new Hyster fuel cell top loading container handler powered by Nuvera is also at work in the Port of Los Angeles.