Zepp.solutions, a Dutch company specialized in hydrogen fuel cell technology, has secured a €1.98-million grant from the European Just Transition Fund (JTF) for the development of a fuel cell systems factory. The factory will be situated in Europe's strategic transport hub, the Greater-Rijnmond region.
With the support of the Ministries of Economic Affairs and Climate (EZK) and Social Affairs and Employment (SZW), as well as the municipalities in the Dutch Greater Rijnmond area, zepp.solutions aims to accelerate the transition towards green technologies in the transport sector while fostering resilience in the labor market.
The factory will be dedicated to the production of zepp's Y50 and X150 fully integrated hydrogen fuel cell modules. These fuel cell modules transform hydrogen gas into usable high-voltage electric power to drive vehicles, vessels or other heavy machinery.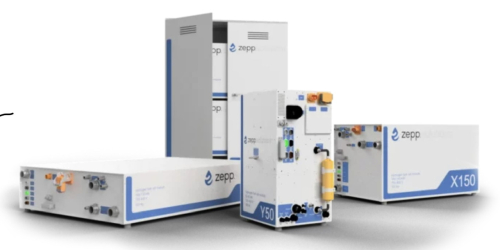 Current applications include the Rotterdam Watertaxi, a Terberg yard tractor, excavators for construction as well as a 67-meter long inland shipping vessel. The first two semi-trucks featuring zepp's fuel cell systems will hit the roads later this year.
The factory will enable zepp.solutions to scale up production to 1,000 systems annually, leading to the creation of approximately 100 sustainable jobs in the hydrogen sector within the region. By focusing on the production of their zero-emission fuel cell systems, zepp.solutions also contributes to the region's ambition to become the leading European hydrogen hub.
A substantial portion of the fuel cell systems produced will find their place within zepp.solutions' recently unveiled Europa trucks, which uses the X150 fuel cell system. (Earlier post.)
Founded in 2017 as a spinoff from TU Delft's hydrogen racing team 'Forze', zepp.solutions combines a unique skillset and experience, ranging from pioneering race car fuel cell power systems to the high technical and commercial demands of maritime and (off-)highway applications.
The Just Transition Fund (JTF) contributes to the transition to a climate-neutral Europe. The main objective of the JTF is to enable regions that depend heavily on income and employment from fossil fuels to enter into an energy transition in a just and equal way, taking into account social, economic and environmental impacts.
The JTF is a Dutch national program, the implementation is organized regionally. The Ministries of Economic Affairs and Climate (EZK) and Social Affairs and Employment (SZW), provinces and municipalities are joining forces to jointly shape and implement the JTF program. In the Netherlands, six areas are involved: Groot-Rijnmond, Groningen, IJmond, West-Brabant, Zeeuws-Vlaanderen and Zuid-Limburg.