The Minnesota Public Utilities Commission (PUC) has approved Xcel Energy's application to allow increased storage of used nuclear fuel at the Monticello nuclear power plant site, enabling the plant to operate for at least ten more years. The utility has applied to extend the plant's operating licence until 2050.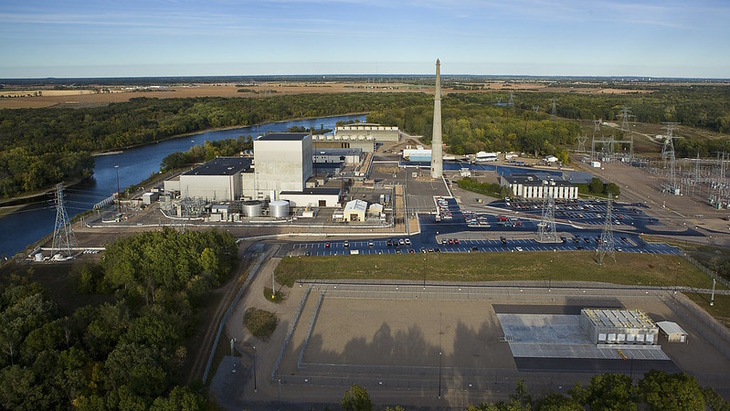 Monticello (Image: Xcel)
Xcel has proposed extending the operating life of the Monticello plant to 2040. To accommodate the additional used nuclear fuel associated with extending the lifetime of the plant, Xcel requested that the Minnesota PUC authorise additional storage within the plant's existing independent used fuel storage installation. The utility estimates that about 14 additional used fuel storage canisters will be needed to facilitate plant operations through to 2040.
The Minnesota PUC has now approved the request, which Xcel said is "a major step toward continuing to provide reliable, carbon-free energy for more than 500,000 customers across the Upper Midwest while meeting the state's carbon reduction goals".
"We thank the Commission, Minnesota Department of Commerce and other stakeholders for their careful review and recognition of the importance of the Monticello nuclear plant to our shared clean energy goals," said Chris Clark, president, Xcel Energy - Minnesota, North Dakota, and South Dakota. "Nuclear power is crucial to achieving those goals because of its unique combination of reliability, affordability, and zero emissions."
The single-unit boiling water reactor plant began commercial operation in 1971 and recently completed a project to replace components, relicense the plant for an additional 20 years, and increase its generating capacity from 600 MWe to 671 MWe. Xcel subsidiary Northern States Power is the plant's licensee and operator.
Xcel applied to the US Nuclear Regulatory Commission (NRC) in January this year for a 20-year extension of Monticello's operating licence. The plant is currently licensed to operate until September 2030 after being granted an initial licence renewal in November 2006. A subsequent licence renewal would extend its licence to September 2050.
The federal licence review and approval process is extensive, and a decision from the NRC is expected in late 2024, Xcel said.