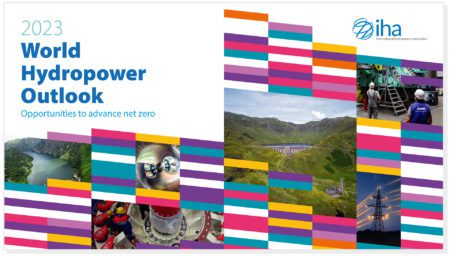 (photo courtesy of International Hydropower Association)
More than 34 GW of new sustainable hydropower capacity was commissioned around the world in 2022, including over 10 GW of pumped storage, according to the International Hydropower Association's World Hydropower Outlook.
This is the first time since 2016 that more than 30 GW of new capacity has been brought online in a single year. Currently, hydropower provides over 15% of the world's electricity.
The findings also highlight the pipeline of 590 GW worth of capacity currently in development.
Despite encouraging signals that governments, industry and wider stakeholders increasingly appreciate hydropower's critical role in the electricity grids of the future, there is still a considerable deficit in capacity, IHA said. Estimates show that even if all planned developments come online, a gap of over 700 GW remains to meet the 2050 net zero targets.
"The market won't deliver sufficient hydropower capacity alone. As outlined in the report, it is imperative that we incentivize sustainable hydropower development through financial and market mechanisms that reward flexibility, accelerate the development of renewables through streamlined permitting and licensing and embed hydropower sustainability practices in government regulation," said Eddie Rich, chief executive officer of IHA. "The outlook sets out a realistic roadmap to enable hydropower and other renewables to deliver against net zero targets. We are calling on governments to consider the recommendations in the outlook to supercharge development in sustainable hydropower."
China continued to lead the field in increasing its hydropower capacity with the addition of 24 GW, and Europe enjoyed a year of unprecedented success, with capacity rising by 3 GW. Both North and South America introduced 1 GW of capacity respectively, while nearly 2 GW was installed in central and southern Asia, including large projects in Pakistan and India.
"IHA calculated the required financial investment to meet net zero targets as US$100 billion a year. However, current investment levels are roughly half this figure. Governments need to assess their broad energy needs including long-term storage and create financial mechanisms that incentivize investment in hydropower, as we've seen with the US's IRA and the EU's Green Deal," said Malcolm Turnbull, former Prime Minister of Australia. "While the numbers are at last moving in the right direction, there needs to be a greater push to meet global targets."
IHA is a non-profit membership association that is the voice for sustainable hydropower, and its membership manages and operates around a third of global installed hydropower worldwide.
IHA's biennial World Hydropower Congress is taking place in Bali, Indonesia, Oct. 31 to Nov. 2. More than 1,000 decision-makers, innovators and experts from industry, governments, finance, civil society, and academia are anticipated to be in attendance.