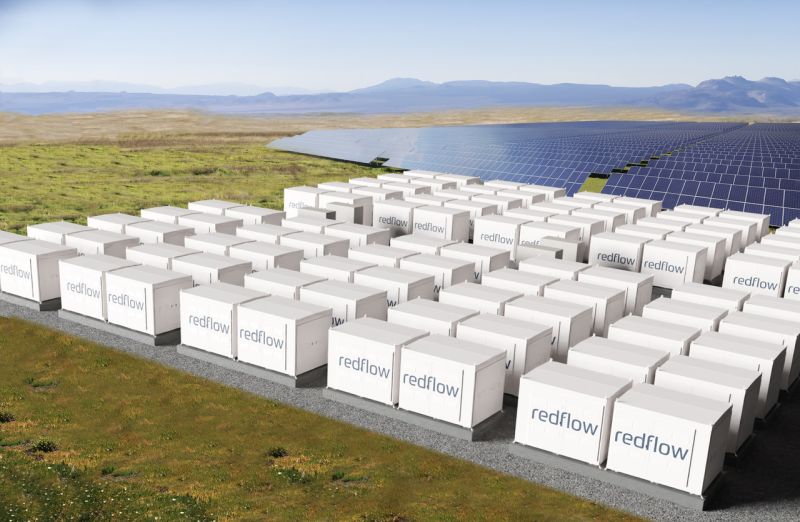 Redflow, an Australian redox-flow battery manufacturer, will build one of the world's largest zinc-based battery energy storage systems in the United States, after signing a multi-million-dollar deal with the California Energy Commission.
Brisbane-based battery maker Redflow will build a 20 MWh zinc-based battery energy storage system as part of a large-scale solar and storage project planned for northern California after securing AUD 18 million ($12 million) in funding from the California Energy Commission.
The 20 MWh battery energy storage system will be paired with a 5 MW solar installation as part of a $50 million renewable energy microgrid which will provide power for the Paskenta Band of Nomlaki Indians in northern California.
Redflow said it will supply, supervise installation and assist with the commissioning and maintenance of 2,000 of its 10 kWh 48 V ZBM3 batteries in modular energy pods. Shipping of the 200 kWh pods, to be manufactured in Redflow's factory in Thailand, is expected to begin later this year with practical completion and commissioning of the system expected in 2025.
Redflow Managing Director and Chief Executive Officer Tim Harris said the 20 MWh system is the company's largest single sale and deployment of batteries to date and is an important step in the execution of the company's plans to expand into the US market.
"This 20 MWh project is one of several large-scale opportunities in our pipeline and represents the start of the next phase of our growth strategy, validating our focus on large-scale systems in the U.S. and Australia," he said. "The market for long-duration energy storage solutions is rapidly accelerating and this project will firmly establish Redflow's presence in California, which is leading the development and support of non-lithium technologies to achieve its net-zero goals."
California, which is targeting more than 400% growth in clean energy in the next two decades, is expected to require 45 GW to 55 GW of long-duration energy storage by 2045 to support grid stability and the state's clean energy transition targets.
Harris said the new microgrid project follows on from the 2 MWh system that Redflow installed in California for biowaste tech company Anaergia in 2022 that has been successfully operating for more than a year.
Harris said Redflow's zinc-bromine flow technology is capable of providing up to 12 hours of flexible energy capacity for both commercial and utility-scale energy storage applications.
"For this project, Redflow's battery system is designed to charge from solar and discharge throughout the remainder of the day, reducing grid demand and boosting the energy security of the Paskenta Rancheria," he said.
The project will be funded by the California Energy Commission's long-duration energy storage grant program which is supporting the development of non-lithium technologies to help the state government achieve its net-zero goals.
Faraday Microgrids, a California developer and contractor that has deployed a number of California Energy Commission grant-funded microgrid projects, is the grant recipient and project lead, and will purchase the battery system from Redflow.
Faraday Microgrids CEO David Bliss said the "resiliency, operational performance, and safety" of Redflow's zinc-bromine flow battery technology will play a key role in providing greater "energy sovereignty" for both California and the Paskenta Band of Nomlaki Indians.
"Redflow's strength of team, innovative approach to flow technology, and a strong track record of successful deployments is a welcome addition to our microgrid portfolio," he said.
Faraday expects the definitive supply agreement will be formalised and a notice to commence issued to Redflow around the end of July 2023.