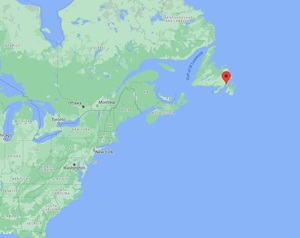 The Canadian government on May 31 announced plans to invest $86 million into a project that is converting an oil refinery located in Come By Chance, Newfoundland and Labrador, into a biorefinery that will produce renewable diesel and sustainable aviation fuel (SAF).
The $86 million in federal funding, which is subject to final negotiations, was made possible through Natural Resources Canada's Clean Fuels Fund and Innovation, Science and Economic Development's Strategic Innovation Fund.
When completed later this year, the Braya Renewable Fuels facility is expected to sustain 200 full-time jobs while creating 800 local jobs during its construction.
Dallas, Texas-based private equity fund Cresta Fund Management acquired a controlling interest in the oil refinery in late 2021. Braya in April 2023 announced a $300 million preferred equity investment by Energy Capital Partners. The company said the investment from ECP completed the financing for the conversion project. North Atlantic Refining Corp., which is managed by Silverpeak also owns a minority stake in Braya.
Once operational, the facility is expected to initially produce 18,000 barrels per day of low carbon renewable fuel. The company later plans to expand capacity and enhance production of SAF.