CleanJoule, a U.S.-based startup focused on the production of sustainable aviation fuel (SAF), announced May 31 a $50 million investment round led by the principals of Indigo Partners, a U.S.-based private equity firm.
The round also included participation by:
GenZero, a decarbonization-focused investment-platform company of Temasek based in Singapore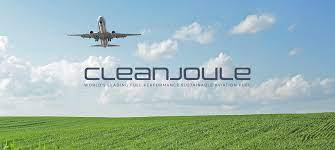 Cleanhill Partners, a U.S.-based private equity firm focused on decarbonization
Three airlines—U.S.-based Frontier Airlines, Europe-based Wizz Air and Mexico-based Volaris
Funds raised from the round will support the further development of CleanJoule's technology to more cost-effectively produce high-performance SAF from agricultural residues and other waste biomass.
The funding round marks an important chapter in the global effort to mitigate carbon emissions and deliver meaningful climate action.
SAF, a biofuel used to power commercial aircraft but with a smaller carbon footprint, could potentially contribute up to 65 percent of the reduction in emissions needed by the aviation sector to reach net zero in 2050, according to the International Air Transport Association.
Depending on the feedstock and technologies used to produce it, SAF can reduce lifecycle greenhouse-gas emissions dramatically compared to conventional jet fuel.
As part of the consortium's investment, Frontier Airlines, Wizz Air and Volaris have signed binding agreements to purchase up to 90 million gallons of SAF.
The principals of Indigo Partners will also receive a seat on CleanJoule's board of directors.
"The aviation industry presents a key frontier in carbon-emissions mitigation," said Mukund Karanjikar, co-founder and CEO of CleanJoule. "There has never been a more crucial time for us to lead the change than through viable sustainable fuel alternatives. As we advance on the commercialization of our fuel technology, CleanJoule is well-positioned to scale the supply of SAFs in the market and shorten the runway in the transition towards a greener aviation industry. We are proud to have the support of our new investor partners, who not only share our mission but who have chosen to place their capital and trust in us to drive the transformation of global aviation."
Bill Franke, managing partner of Indigo Partners, said, "Indigo Partners and its portfolio airlines are committed to decarbonizing air transportation, and the investment in CleanJoule will increase the supply of SAF to the industry. The company has developed a unique technology to convert abundantly available feedstocks into SAF with remarkable efficiency. We believe that CleanJoule will be a key player in the decarbonization puzzle of the aviation industry."
Frederick Teo, CEO of GenZero, added, "Decarbonizing aviation requires solutions that can be adopted at scale. CleanJoule's fuel technology relies on widely available feedstock—agricultural waste—to produce a sustainable biofuel that could be cost-effective at scale with better fuel economy. Its unique approach also allows for higher levels of substitution with conventional aviation fuel thus creating a greater decarbonization impact. We are delighted to support CleanJoule to achieve greater adoption of SAF globally."
Ash Upadhyaya and Rakesh Wilson, managing partners of Cleanhill Partners, together stated, "We're excited to extend our partnership with CleanJoule. As one of CleanJoule's earliest investors, we recognized the high value of the company's technology and the viability of its approach. We look forward to the next steps towards accelerating the commercialization of its SAF technology."
CleanJoule Inc., headquartered in Salt Lake City, Utah, is focused on developing a breakthrough technology to produce superior and cost-effective SAF.
According to the company, its manufacturing process offers high efficiency, feedstock flexibility, and a high degree of decarbonization.