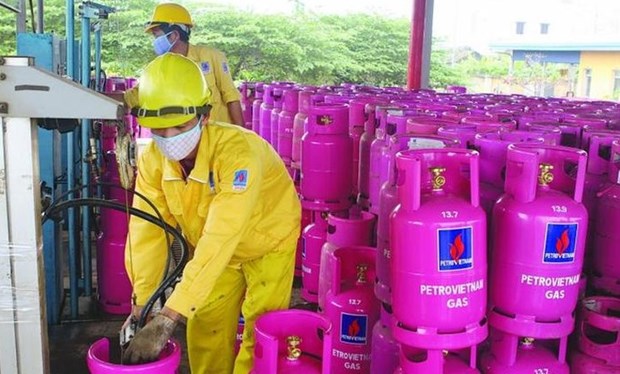 Illustrative photo (Photo: baomoi.com)
Hanoi (VNA) – The retail gas prices in domestic market decreased on June 1 following the falling prices in world market.
Nghiem Xuan Cuong, head of the Commercial and Civil Gas Sales Department under Petrolimex Gas JSC said that the average contract gas price in the world in June is at 445 USD per tonnes, down 110 USD per tonnes compared to May.
Specifically, the retail prices of Petrolimex gas (including VAT) in June in Hanoi is 371,600 VND (15.8 USD) per 12 kg civil cylinder; 1,486,300 VND per 48 kg industrial cylinder, down 33,640 VND and 134,660 VND respectively.
From the beginning of the year, the retail gas prices in the domestic market have declined four times in January, March, April, and June and increased twice in February and May.
On the world market, at 8 am on May 31, the price of gas futures contracts delivered in July 2023 is at 2,319 USD per mmBTU, down 0.004 USD per mmBTU due to falling demand for natural gas in Europe as the winter is over and demand for electricity in summer peak has not yet begun. Gas consumption by industries also weakened.
According to data from Gas Infrastructure Europe, as of May 24, natural gas storage sites in the EU was 66.71% full./.